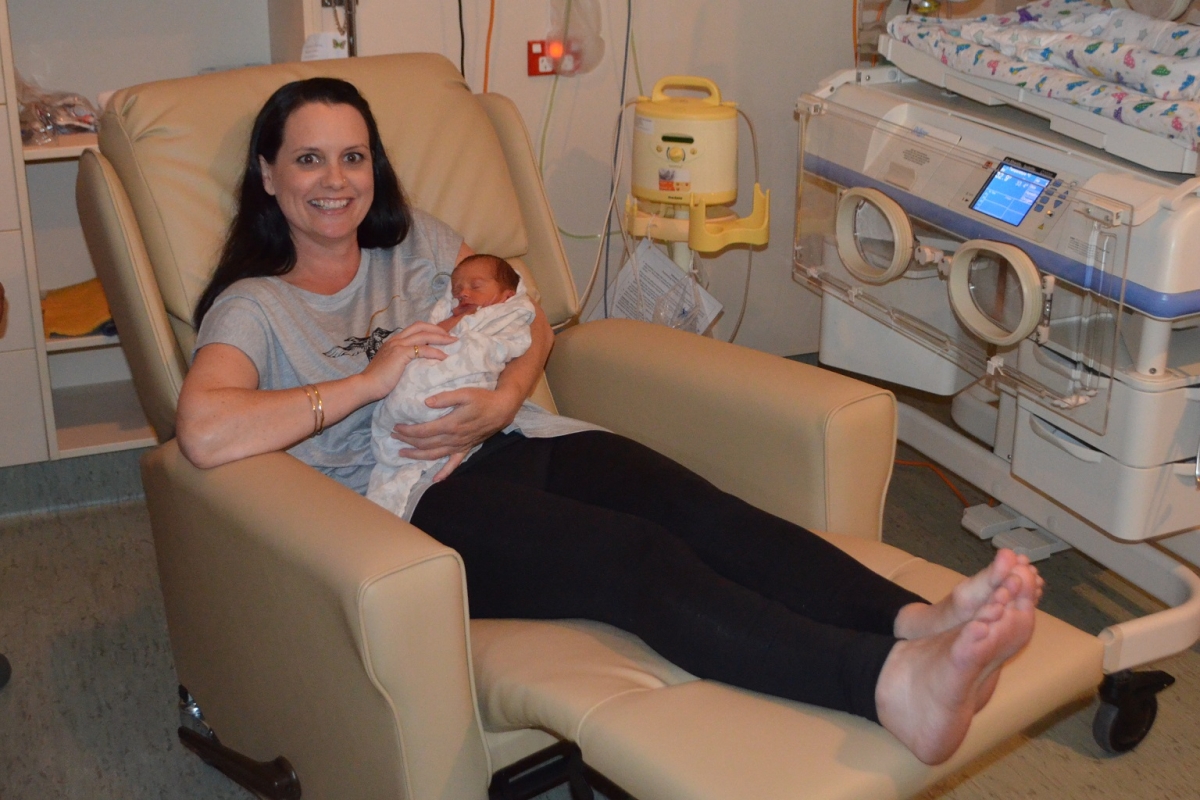 Bonding between special care babies and their parents has just become a whole lot easier at Nelson Hospital.  Two chairs, designed to enable new mums to cuddle and breastfeed in comfort, have been donated to the hospital's Special Care Baby Unit (SCBU), made possible by funds raised by World of WearableArt™ (WOW®), a longstanding supporter of The Little Miracles Trust. 
SCBU charge nurse manager, Maureen Higgs said the big, old, armchairs in the unit were no longer adequate for their purpose.  She said they were so low to the ground, they were difficult to get in out and of, especially for mothers who were recovering from caesareans. 
After some research, Higgs said she found the perfect chairs made by Acorn Furniture in Motueka.  The chairs were designed with functionality and versatility in mind, allowing mums to nurse, sleep, and bond with their baby during their stint in hospital.
She said skin to skin contact on a bare chest was crucial for parents and their baby. "Really developmentally important, and it means that the one chair that meets all those needs can rid of some of the clutter in the room." Other design features include wipeable fabric to control infection, lockable castors for easy movement, a rail at the back and recline capability.
"If dads want to stay by their baby they can sleep in them too because they really fold right out. "This is so exciting to be able to get something that really works to what you want as far as the needs of the parents."
Pictured above is Sarah Jeffries relaxing in one of the new recliner chairs with her son Phoenix, who was born at just 33 weeks.
Sarah Jeffries was in the unit with her 5-day-old baby, Phoenix, born at just 33-weeks by caesarean.  She said the new chairs were "so much better" than the old ones.  "I spend a lot of time in it so it's good to have something comfy."
Read the full article from Stuff / The Nelson Mail here
 
Thanks WOW®
WOW® has been a charity partner of The Little Miracles Trust for more than a decade. Trust executive director Neil O'Styke said the trust sold tickets to a WOW preview show every year. The trust kept half the proceeds which were then distributed to neonatal care. "We made sure that some of the funds from the last show have come towards these chairs and neonatal research, which helps all babies across New Zealand and the babies born early who are transferred" to the hospital.