Every year approximately 10% of all babies are born premature (before 37 weeks gestation) in New Zealand.
That's one premature baby born every 90 minutes.  There are also full-term babies whose condition or illness requires admission to a Neonatal Intensive Care Unit (NICU) or Special Care Baby Unit (SCBU) after they are born.  In all, over 5,000 babies have a difficult to start life in New Zealand each year.
We exist to support these whānau through a journey that can be full of stress and anxiety. This help is provided in a number of different ways, all aimed at "making a difficult start to life that little bit easier". To view a gallery of support examples, click here.
Onsite Support in the Hospital
We have a number of team members who work directly in the NICU units and visit the SCBU units on a regular basis. They are there for whānau to lean on during such a stressful time with the majority of the team being ex-NICU/SCBU parents they are the perfect listening ear or shoulder to cry on. In addition to this we offer items such as breastpumps for hire and sale; prem baby clothing and nappies as well as lactation aids and lots of woollen goods handmade with love. 
Care Packs
We supply around 5,000 care packs across every unit with one for to each whānau who has a baby admitted to a unit. These packs are made up of practical yet thoughtful items which will be of use during the whānau journey.  There are many items we'd love to add (lipsalve, powerbank, antibacterial wipes or hand gel, water bottle and sanitary items for Mum), so if you would like to donate to help us with these packs you can do so here.
Regular hospital lunches/morning teas 
One of our most regular and popular support events is providing an opportunity for Mums and Dads with babies in the unit to meet and have a get together.  This is an opportunity to provide necessary information and support and also answer any questions. Parents can also develop support networks with other parents, which help outside of the unit. Where facilities allow, the Trust host a regular light lunch or morning tea.
"This is just a fantastic gesture by the Trust and it was a great opportunity to chill out for half an hour with other parents over a piece of pizza and a cup of tea. We met two other couples whose babies were born around the same time as our son and we were all in the Unit for eight weeks so we got to know each other pretty well and compared notes about our respective experiences. We are now good friends with one of the couples in particular – that wouldn't have happened if we hadn't met at the weekly lunch – so we really appreciated it – thanks Little Miracles Trust!"
Unique Community Playgroups
Parents who have had a NICU or SCBU experience often need support once they return home, as returning home with a baby that was premature or sick can have demands over and above a full term healthy newborn. Plus they've gone from a busy hospital ward environment to being at home on their own.
 Also parents may not have ever had the opportunity to join an antenatal group. We offer regular playgroups where parents can meet up after they have left the NICU and their babies can have a play. They are unique as they are facilitated either by an Occupational Therapist or a Physiotherapist who is there to talk about baby's development milestones and give advice to the families.  More information on venues and dates available here.
Gifts for Special Days
We know how hard it is to be in an intensive care setting with your baby and this is felt even more on days of note such as Mother's Day, Father's Day and Christmas Day.  So the team works closely with our partners to put together some thoughtful gifts for Mum, Dad or the family to be ready by baby's bedside when they visit on that special day.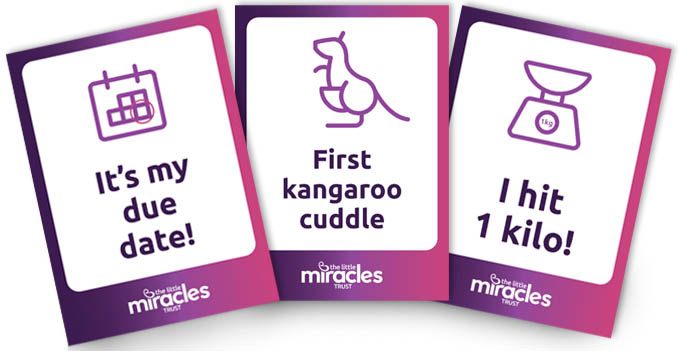 Celebrating Baby's Milestones
We're all about celebrating how well a baby is doing during their time in a unit, so each family will get a set of specially designed neonatal milestone cards to help them keep a visual diary of these important days like when a baby hits the 1kilo mark or goes tube free!  Plus we have a special '100 Day' certificate and bunting for those little ones who reach up to 100 days in hospital.  And as each family gets to take their baby home we supply each unit with graduation certificates to give to complete and present to each family on discharge and there's a special selfie frame to capture the that magical moment. 
Supporting the NICUs and SCBUs
We support the NICU and SCBU teams directly in a number of ways, for example, a good number of the chairs used for those all important kangaroo cuddles by Mum or Dad has often been supplied by us; vital training equipment such as the 'Baby Sim' simulation doll used for enhancing staff training; the privacy screens available to be able to close off a family's own part of a busy ward room; breastpumps available for use on the ward by Mum to express breastmilk for her baby; and we've helped with many refurbishments of parent rooms, kitchens and lounges.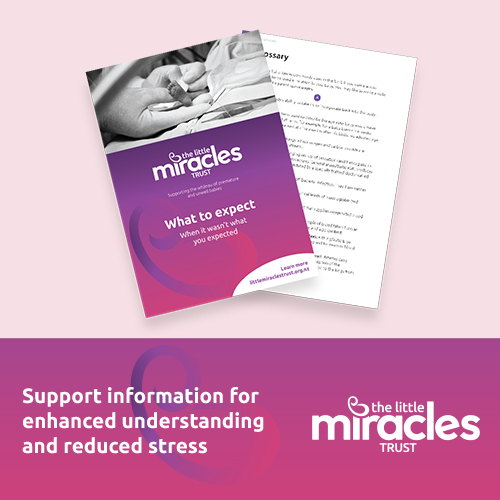 We're very social too!
This website has a wealth of information for parents to help them navigate the time that their baby is in a unit and after they've been discharged home with their little one.  All of this information can be found here.
And as the neonatal world has a whole language of its own we've put together a Glossary to help understand these clinical terms as well as a Conversion Scale . If you do hear a term that the medical team uses that you don't understand, always ask for an explanation as they'll be more than happy to help.
We send out a regular newsletter to keep our dedicated supporters up to date with news from the Trust as well anything new and interesting in the neonatal world. Connect With Us today. 
Family stories are always extremely popular with new and current families to read and have information relative to their journey and to know they're not alone in this experience. Do head to this part of our website to read through these amazing and inspiring journeys.
Added to this we have active social media accounts that have a proactive group of followers from across the globe.  So do find us on Facebook, Instagram, Twitter and LinkedIn!