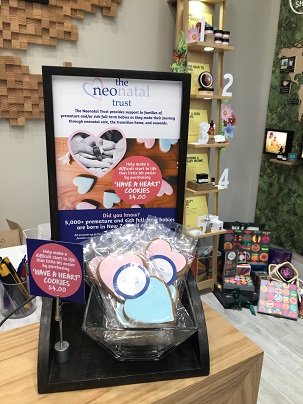 The Little Miracles Trust currently has the privilege of having 'Action stations' in all of retail stores of The Body Shop in New Zealand! (Through to the end of May April 2018). They are selling the delicious gingerbread 'Have a heart' cookies as well as helping us to raise awareness of the 5,000+ neonatal journeys in New Zealand every year.  
The photo to the right shows the display in the Lower Hutt Queensgate store. Get into one of their stores, support them, and check them out in person.
The support isn't limited to their stores, as they're also supporting us with content on their website and helping us raise awareness this way too!
This great support follows their wonderful help with our fundraising by providing gift baskets, items for our support packs, and more. 
Thinking about what to get Mum for the fast approaching Mothers Day?
Support those who support us and check out these options from The Body Shop.
A personal connection 
When we run awareness campaigns and fundraising activity it's not uncommon for personal journeys and connections to become apparent. We're privileged to currently have the support of The Body Shop with their in store 'Action Stations'. This activity uncovered a very real connection for the manager of the Nelson store.
As written by mum, Jolene:
"Just want to say I am so happy we are supporting The Little Miracles Trust. This charity is very close to my heart. I have experienced first-hand the amazing support they give families in a overwhelming and stressful time. My gorgeous son Tai was born at 25 weeks and weighed 2lb. Having a baby so premature means most mums are not ready mentally or physically to have a baby and the experience ahead.  For myself, I gave birth to Tai in Nelson hospital and was then rushed to Wellington where we stayed for 2 months. . .       You can read and/or download Jolenes story as a PDF here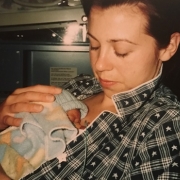 A consistent ethos 
Their supportive approach should come as no surprise, given the drive and ethos they have had from their founder:
 
"The business of business should not just be about money, it should be about responsibility. It should be about public good not private greed."
Dame Anita Roddick. Human Rights Activist. Founder of The Body Shop
 
Thanks!
The Little Miracles Trust is very proud and thankful to have the support of The Body Shop
www.thebodyshop.co.nz/Latest-Stories/The-Neonatal-Trust
www.facebook.com/TheBodyShopNZ/?fref=ts