Lights, Santa and… an Enormous Reindeer
Nathan and Rochelle are proof that a big dream, a lot of time, planning and some hard mahi can make a spectacular difference to not only a neighbourhood, but to a whole town!
To say that these two have a thing for Christmas, falls way short of the mark! Over the past several years, their mutual love of all things festive, including a forest of Christmas trees and a collection of commemorative teddy bears has led to the birth of a truly home-grown, annual Christmas experience that just gets better and better each year.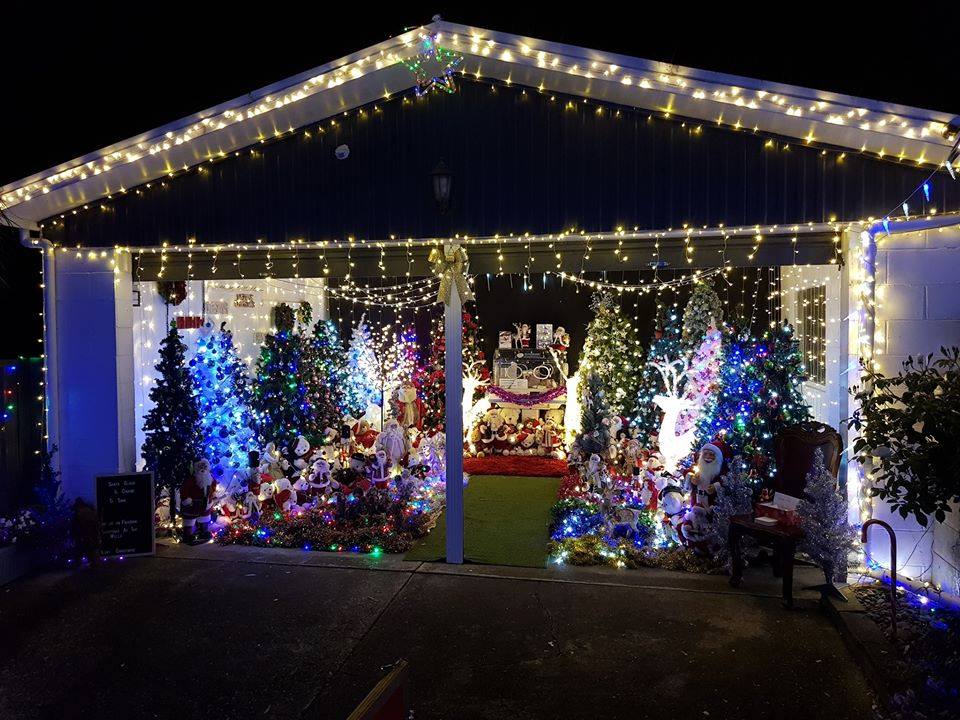 After months of planning and preparation, each November, Nathan takes annual leave for the month and starts setting up their Christmas display, which spans their house, garden, garage, shed… and each year more and more of their neighbours have begun to follow suit. This year, 6 additional homes in the usually sleepy Hamblyn Crescent in Nawton, Hamilton, have joined in with the festivities, and the result is magical!
The star of the show each night is undoubtedly Santa Clause, and his bottomless bag of candy canes (thank you so much Vodafone NZ!), however, this year he has had some competition from 15 foot high reindeer that took up residence on the front lawn! Nathan got the plans from overseas, Mitre 10 supplied the plywood for free, and some paint, guide wires and neighbourhood muscle to do the heavy lifting, has made the reindeer a star attraction, drawing admirers in from far and wide.
For the Wells, what makes this display special for them, is that it is not about being the biggest or most expensive, but rather about the spirit of Christmas – of joining in, and of giving families who may not be able to afford a shopping mall photo with Santa, an opportunity to join Santa, in his sleigh and pose for a family photo to remember, and of reminding a community how to come together and celebrate the importance of family.
The extraordinary thing about this whole, magical experience is that Nathan and Rochelle refuse to take any payment for the experience. In fact their only request is that visitors consider bringing along a donation for The Little Miracles Trust New Zealand.
You see Nathan and Rochelle know what it is like to have a baby in a Neonatal Intensive Care Unit (NICU) and host the Little Miracles Trust incubator donation box during their Christmas display. Donations from members of the public are a huge contributor allowing The
Neonatal Trust to help families with premature and sick new-borns in NICU's across New Zealand, and the Wells love hearing so many stories from people who have visited their display that have had a baby, or been a baby in NICU.
One in 10 babies born in New Zealand each year are born premature, and many more sick new-borns also join them in spending time in a NICU. This is an incredibly stressful time for parents, and extended family, and the Little Miracles Trust holds as its core goal the aim to make this difficult start in life a little bit easier.
So, on behalf of the Little Miracles Trust team, volunteers and all of the regional New Zealand NICU's we would like to extend a huge and heartfelt thanks to the Wells family! And to everyone who visited this years display and made a donation, thank you all for your amazing support!