The Waikato Neonatal intensive Care Unit (NICU) was kindly donated their first-ever Giraffe Shuttle from The Little Miracles Trust thanks to the NZ Financial Markets Charity Golf Classic.
The Little Miracles Trust had the privilege of being selected as the charity of choice for the 2018 NZ Financial Markets Charity Golf Classic in Taupo. Regina Marais, the Trust's chairperson stated: "A special thanks goes to the New Zealand Financial Markets Association (NZFMA) and NZX for running such a fun event and choosing to support The Little Miracles Trust.
The generosity shown by those who attended the tournament helped to raise over $50,000 – the Giraffe Shuttle being the key piece of equipment purchased with these funds to help enhance the care of the tiny and precious babies at Waikato Hospital.
Image L/R: Chantelle Hill, Sharni Wood, Regina Marais, front Regina's daughter Gabrielle
NZMFA education and events manager Maria Chandler also came to visit the NICU team and see the shuttle with her daughter Grace who recently started with NICU in the nurse entry to practice (NETP) programme.
"We are so pleased to see what we've been able to provide and how important this shuttle is for newborn babies. Understanding how much it will help the staff too was really special for us," says Maria Chandler.
The shuttle reduces the risk of complications through limiting the number of times pre-term or late pre-term babies need to be handled when being transferred and cared for. This is absolutely critical for the very early and tiny babies who are born as small as 500 grams. It is highly portable and easier to move around than previous models, enabling NICU to transport babies to the operating theatre or collect babies from the emergency department, which is quite a distance from NICU.
NICU's charge nurse manager Chantelle Hill says: "We are so appreciative of The Little Miracles Trust and NZ Financial Markets Charity Golf Classic  for being able to provide us with this piece of equipment. It means that we can load on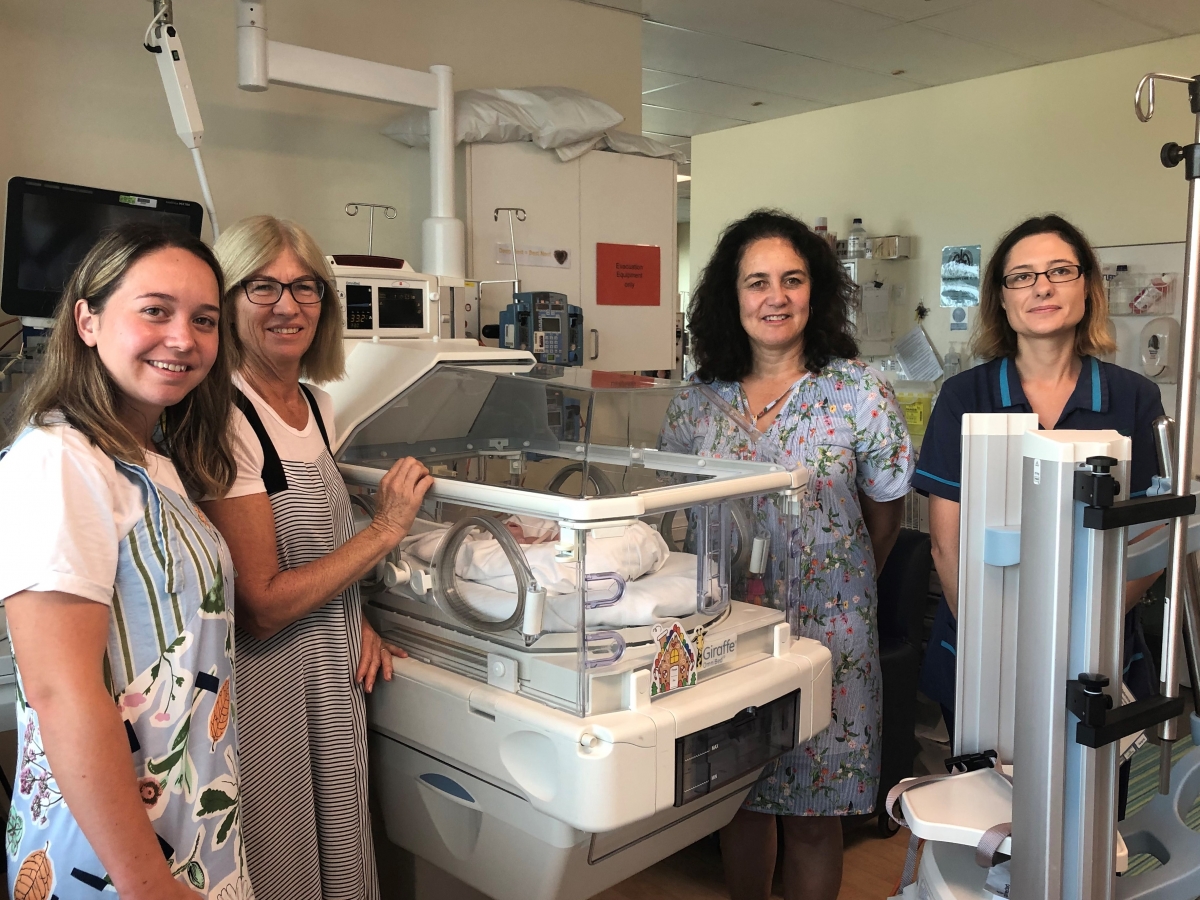 oxygen, ventilation support, suction and monitoring to be able to collect and move the fragile pre-term babies around much easier."
"It also means that we have to handle the babies less and we can bring them up in one move. What would normally take 4-6 staff to take a baby to theatre; we can now do with 2-4 staff, so it releases staff to be able to care for the vulnerable babies in NICU."
"We're still waiting on two more parts to arrive before we can use it for the first time, but we can't wait!" says Chantelle.
Sharni Wood and Regina Marais from The Little Miracles Trust, have both had premature babies delivered at Waikato Hospital and spent a substantial about of time in NICU. "As a parent, you want the best possible outcome for your babies," says Regina whose daughter Gabrielle was born at 25 weeks. "Gabrielle was delivered by an emergency caesarean, so the giraffe shuttle would help allow babies like her to have a far better, long-term health outcome as well."
​Image L/R: Grace Chandler (new NICU NETP), Tracy Thompson, Maria Chandler (NZFMA), Chantelle Hill
The Little Miracles Trust is about helping to make a difficult start to life that little bit easier and has three core objectives:
* Supporting families of premature and sick full-term babies as they make their journey through neonatal care, the transition home, and onwards.
* Assisting neonatal units in practical ways such as purchasing or contributing to the cost of equipment and funding for staff to attend neonatal educational seminars or other professional development.
* Supporting neonatal-related medical research.
For a gallery of support examples, head here