As told by mum Kelly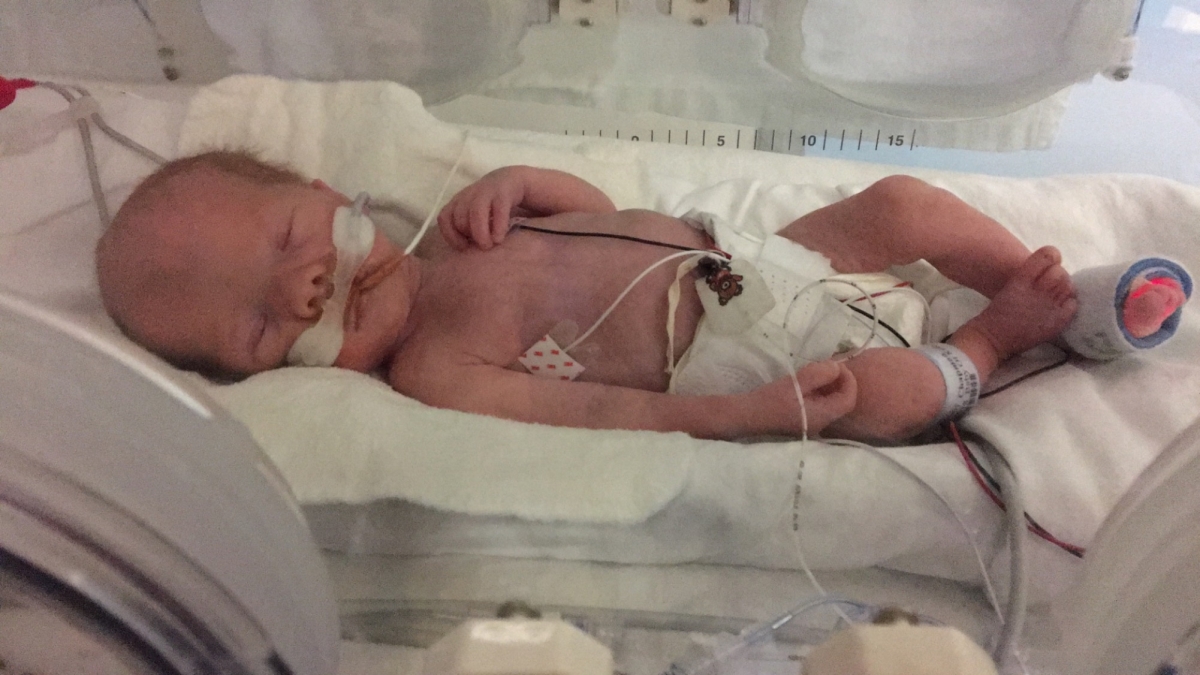 Riley's neonatal journey started on June 8th 2018 when he was born at 34 weeks and 6 days gestation.  Early, due to being intrauterine growth restricted (IUGR) he weighed 1495grams and was 41cm long when born.
We had a rough pregnancy and knew things weren't quite right with blood flow and growth from about 19 weeks. We had spent time between Christchurch and Dunedin having multiple tests and scans.  They had initially wanted to deliver Riley at 28 weeks where he was weighing approximately 800grams but somehow, we managed to hold on for another 6 weeks. 
Riley spent 105 days in the Dunedin neonatal intensive care unit, initially on high flow oxygen, then, low flow and CPAP (Continuous positive airway pressure) – where it was discovered after many scans and tests that he had:
a small PDA (patent ductus arteriosus) & VSD (ventricular septal defect),
a small cleft of the soft palette
small airways and narrowing in the right side of his nose where a NG (Nasogastric tube) tube couldn't get down
And after an MRI, it showed he also had mild vermian hypoplasia, which just means he has trouble with all his motor skills and is a bit slower than a normal baby. 
Riley had 2 blood transfusions in his time in NICU and was intubated at one point just to give his lungs a wee rest from fighting the big fight on earth and a little more time on CPAP. 
Fast forward 6 weeks post NICU and Riley is now at home, still on a small amount of oxygen, tube feed for 18 hours a day through a NJ (nasojejunal) tube and is a thriving 5.2kg.
***Thanks for sharing your story Kelly!***
We get a lot of positive feedback from families in a neonatal unit who read these stories and feel strength, hope and positivity knowing that they are not alone going through these experiences and feeling certain emotions.
If you would like to discuss sharing the story of your neonatal journey, we'd love to hear from you. Please email info@littlemiraclestrust.org.nz 
Glossary
The world of neonatal care most definitely has a language all of it's own. While on your neonatal journey, parent's hear many words and medical terms which can seem a little overwhelming at first.  We have created this glossary of the most commonly used medical and clinical terms, plus abbreviations you may encounter during your time on a neonatal journey.  
Interested in how The Little Miracles Trust supports families going through the stress and anxiety of a neonatal journey?  
Here's a gallery of support examples.