After the "traumatic" premature birth of her first born baby, Amy Mills discovered the practice of babywearing. Now the Temuka woman is sharing her knowledge of using different wraps and carriers for parents to carry their children close, encouraging bonding and helping with issues such as reflux. Mills is a babywearing consultant and runs the Timaru Babywearing Group. 
Read the full article on stuff.co.nz here: www.stuff.co.nz/timaru-herald/97455021/Babywearing-helps-with-bonding-mother-says
Kangaroo cuddles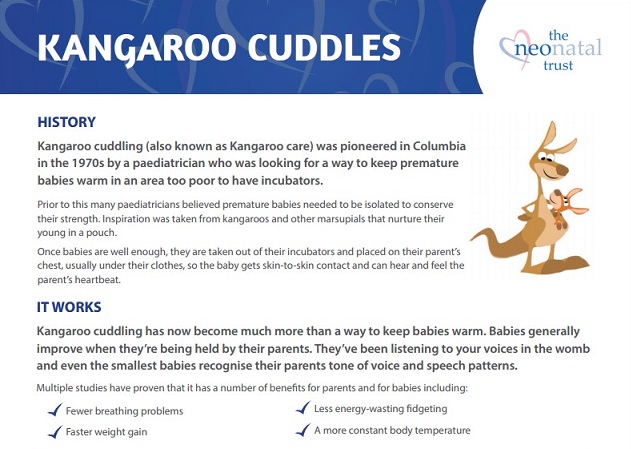 The Little Miracles Trust is a big advocate of Kangaroo Cuddles. It helps both the parents bond with their baby and also has health benefits for the baby.
Read more details from an article earlier this year:
staging.littlemiraclestrust.org.nz/2017/05/15/kangaroo-cuddles-awareness-day-2017 
Read and/or print off a PDF on Kangaroo Cuddles:
staging.littlemiraclestrust.org.nz/sites/default/files/uploads/Kangaroo%20Cuddles_FINAL.pdf