With Father's Day just around the corner, we know that Dads would much rather have their precious babies at home. However, until they are ready to go home the Neonatal Intensive Care Unit (NICU) or Special Care Baby Unit (SCBU), where the expert and caring Doctors and Nurses will be monitoring and caring for them, is the very best place for them.
Here are some suggestions for those of you with babies currently in the NICU to celebrate Father's Day. 
Take his picture
This seems obvious but sometimes with so much going on you can forget. You and he will love to look back on the pictures of him holding his baby when they were tiny and still in the hospital.
Affirm his role as Dad
As a NICU Mum, it is so easy to just become absorbed by all of the emotions surrounding your baby that you forget the other people in your family. This is very normal and necessary for survival. However, don't forget to tell your husband verbally or in a card, "You're a good dad." and "You're doing a good job." if you're still in the NICU. And if you're on the other side of your NICU experience you can reminisce together, "You did a great job in those early, stressful NICU days. I know that was hard on you too."
Feed him
Load him up with food on Father's Day if you can. Our men love to eat. Take him to his favorite restaurant. Or if you are in the NICU, take a moment to eat something together, just the two of you.
Encourage him do something he enjoys
Whether it's time to spend outside the hospital walls, working out, watching sports, or something completely different. Give him full permission to indulge in something he enjoys. If you're still in the NICU, that could mean letting him go for a run outside the hospital or watching a game on his tablet while holding his baby.
Don't get all worked up over finding the perfect gift
If all else fails, see #3 and buy him his favorite food!
Credit to: preemiebabies101.com for coming up with these great ideas.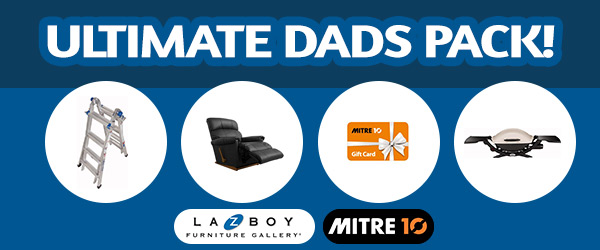 Thanks to the great support of La-Z-Boy Furniture Gallery and Mitre 10 we're auctioning off the Ultimate Dads pack. A $100 Mitre 10 Gift card for anything DIY, a handy and safe Werner Ladder a great Weber BBQ and a wonderful Leather La-Z-Boy to relax in! 
Learn more about this auction that closes on Fathers Day here