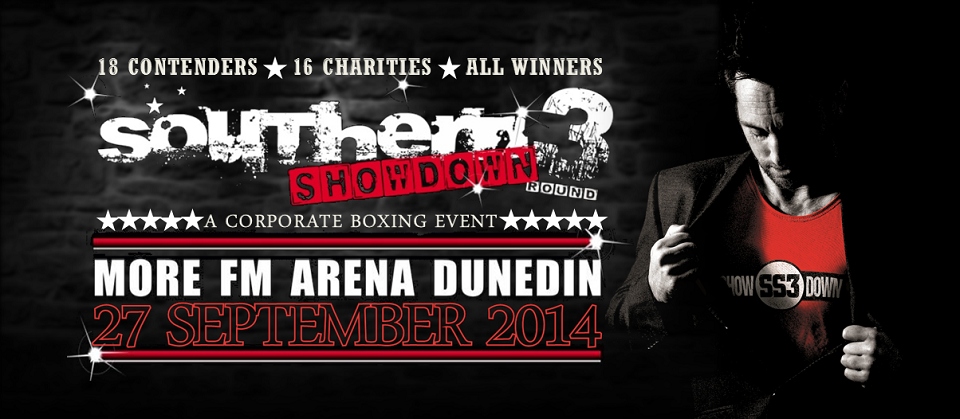 18 Contenders – 16 Charities – All winners
The Southern Showdown has been an annual event since 2012 and has raised more than $65,000 for the Malcam Trust and Otago Community Hospice. The More FM Arena will once again hold host to Dunedin's biggest annual Black Tie event on 27 September 2014. 18 brave individuals put their chin on the line for a charity of their choice, supporters of the contenders can then make a donation to the charity their contender is fighting for.
This year, a courageous Martin King will step into the boxing ring to raise money for The Little Miracles Trust. Martin has already undergone several gruelling weeks of 'bootcamp' training in preparation for the big night.
Join the who's who of Dunedin's business leaders, local politicians and sporting personalities for a red carpet evening of glitz and glam at Dunedin's biggest black tie sporting event. Be sure to grab your tickets early and support Martin as the biggest clash in Showdown History commences with entertainment, a live band, great wine and food on offer.
In Martin's words:
I work in the hospital and have witnessed first hand the difference the support that The Little Miracles Trust offers the families of babies that have arrived prematurely and often unexpectedly. One of things that I respect about this group of dedicated individuals is their ability to tailor the support to the varying needs of the families in what is a very traumatic time. I hope by standing up I can raise both the profile and some money for this great charity.
Its been a tough few weeks as the training steps up again but I am powering through every challenge put in front of me doing what I can to prepare. Often when I think I can go no further I picture some of the babies in the NICU and realise my struggle and pain is nothing compared to what some of the families are going through and it is my job to train as hard as I can so that I can put on a good show.
I hope I see you out on the 27th of September to support The Little Miracles Trust as we try and raise some money to support young kids and their families who have had a difficult start to life our communities.
Show your support:    Buy your tickets or donate
Grandstand Seats – $59.50 incl GST + booking & merchant banking fees
On sale now at the Edgar Centre or by calling 03 456 1200.
For all table and corporate suite purchases contact the Main Event Dunedin Ltd on (03) 455 6400 or visit www.southernshowdown.co.nz
The Little Miracles Trust is incredibly grateful for Martin's support. Support Martin on his journey and also The Little Miracles Trust. Follow his journey and donate here: Martin King