My baby was born in the early hours on a Saturday morning, gestation 24 weeks 3 days, weighing 770g. I required a surgery after the labour for manual removal of my placenta. About 6 hours after she was born, I got to meet my baby girl, placing my hand on her inside her incubator in the NICU, her home for the next few months. Around lunchtime, I was back in my room in the post natal ward and I was given some syringes and shown how to start hand expressing. I knew she wouldn't be able to breastfeed for quite some time due to her needing ongoing breathing support, an oral feeding tube, and to do lots of growing first. 
I didn't know how hard, time consuming and undignified I would find pumping. I call it pumping rather than expressing because expressing makes it sound quick, and for me it was anything but that. I hated it and it nearly broke me, but I kept going. I didn't know then that I'd be pumping at least 7 times a day for the next four months, including at night time, at home without my baby. That I wouldn't get to sleep more than 3 hours at time for the foreseeable future. 
I found pumping uncomfortable and sometimes painful. For the first few days midwives would help me squeeze 0.2ml out of my nipples and I'd proudly take it down the corridor to the fridge in NICU. My milk didn't come easily. My baby needed some donor milk for those first few weeks, for which I will be forever grateful. 
Six days in, I had been discharged and at home for a couple of days. I got 36ml and I was so pleased, my milk had finally come in. I was so proud of it that my visiting parents drove over an hour round trip to drop it at the hospital so there was enough milk for my baby overnight. The next day, I woke up and my boobs were empty and I couldn't get 2ml. My milk had come and then gone again. I was gutted.
After speaking with my midwife I started taking domperidone the next day and gradually over the next few weeks my volumes started increasing again, averaging 8ml per pumping session in week 2, 24ml in week 3, 28ml in week 4 and back up at 35ml in week 5. I was producing enough by that point for my tiny baby. I was keeping up with her needs and she no longer needed donor milk. 
Even later on, 16 weeks in the NICU, sometimes I would only get 20ml, but sometimes I would get 80ml. At the peak of my pumping journey I was averaging 70ml. Righty was always the slacker and lefty was where the milk was at. I would do 15 minutes on each side and could only do one side at a time as I needed to do compressions the whole time. Including time setting up and cleaning and sterilising after, it would take me almost an hour each time. 
Midwives, nurses, other mums told me that given my low supply and how early my baby was, I probably wouldn't ever be able to fully breastfeed. A well-meaning nurse told me that your supply is like your shoe size, you can't change it, you have to accept it's what your body makes. I struggled to accept that and held onto hope that I'd be able to breastfeed my baby, at least for some of her feeds. 
I talked to other mums and lactation consultants and did a lot of searching online and found everything I could to help my supply. I made every opportunity a galactagogue! Breakfast was oats with lactation mix and LSA, I had oat milk in my coffee, homemade lactation cookies for snacks, breastfeeding tea for drinks during the day, 0% beer in the evenings (yeast). I took blessed thistle and brewers yeast and later on, fenugreek. 
I was so lucky to have the lactation consultants in NICU and a couple more when I got home too. They answered all my weird and wonderful questions without judgement. 
I felt so jealous of the other NICU mamas making more milk than me. Sometimes I'd see them with 2 bottles of milk after pumping. I knew rationally that perhaps they'd had babies previously, perhaps their bodies were more ready, or their babies were a little further along when they were born. Perhaps it's just luck of the draw. I also knew that some of those mamas were donating milk, some of which went to my baby, which I was so grateful for. I also met other mamas struggling with their supply. Everyone is on their own journey. 
I learnt that it's ok to cry over spilt milk. I spilt milk. Nurses spilt milk. Somehow milk ended up in the NICU fridge for too long and needed thrown out. They say spilt breast milk goes to the angel babies 💜
I got used to pumping in front of anyone and everyone. Everyone in NICU saw my boobs. The doctors would do their morning rounds and I would be pumping while talking to them at my baby's bedside. Visitors who stayed at our home would see my boobs. Given the alternative of hiding away in a room on my own, it was easier to be around people. 
I tried to pump a few times during kangaroo cuddles (skin-to-skin time with baby). Logistically it was very difficult. A tiny baby in between my boobs with a breathing support mask and various monitoring cables on her body, hands, and feet. The pump next to my reclined lazy boy armchair. I also had to massage my boobs while pumping to get enough milk from them. While supporting the baby. Very difficult. One time she had a medical event while on me during my pumping. Needless to say it was very stressful and again, lots of people saw my boobs that day. The stress of that impacted my supply and set me back another couple of weeks. Eventually it picked up again but after that I decided to just enjoy the cuddles and if it meant getting off schedule pumping, so be it. 
I fell asleep while pumping more than once. I slept walked once and woke up very confused in my pumping chair when I know I'd gone to sleep in my bed. I slept through alarms on occasion and woke up engorged. It consumed my waking hours and my sleeping hours. 
There was one night almost 4 weeks into our NICU journey, I had just gone back to sleep after a 1am pump. My phone rang and it was one of the lovely NICU doctors. Out of the blue, my baby's tiny body had got tired, and she had needed to be reintubated again. She wasn't doing so well. I drove in to the hospital straight away to be there with her. I got an update on what was happening and sat by her. She needed to rest, I couldn't even hold her little hand. Eventually I drifted off the sleep in the lazy boy armchair next to her incubator. 20 minutes later, my alarm clock on my phone went off. It was time to make milk again. A total of about a tablespoon from 15 mins on each side. I really gave consideration as to whether I could keep doing it at that point. 
I formed an irrational attachment to a hospital breast pump called Nemo. Nemo was with me from the start. The best nurses supported this attachment and moved Nemo when my baby moved rooms, even though it's technically meant to stay in its original room. On a particularly tough night later on they even conspired to break Nemo out with me for the night so I could sleep closer to the hospital instead of going home (fortunately a legitimate solution was found and Nemo didn't require smuggling out). 
After about three months my baby progressed onto breathing support with a nasal cannula instead of the mask, her feeding tube was able to be moved to her nose instead of her mouth, and we were able to start trying breastfeeds. The very first try she licked the nipple once and got overwhelmed and fell straight asleep.
I found breastfeeding really hard and really sore at the start. It took a while for us both to figure it out. She was still very small when we started, she had a shallow latch and a tongue tie and a high palette and would get tired after a few sucks. Nipple shields became our friend for a while. 
The first time she latched well using a shield, she came off the boob after with milk all over her face and an exhausted expression and I was so proud of her and proud of myself, we'd done it!
For a while she kept her feeding tube for top-ups. The breastfeeding/tube feeding/pumping cycle nearly broke me. It was taking about 2 hours out of every 3 and felt completely unsustainable. But I stuck with it and recruited help whenever I could to make it possible to keep going. 
I started burning through my frozen milk supplies at this point as I was really struggling to keep up with the demands. I got some frozen milk from another mum to have at home ready for when mine ran out. 
Once we got home (after 109 days in the NICU) and we had some time to settle in and relax, my milk finally came more easily. I was soon able to fully breastfeed her and she was able to finally lose the feeding tube within a week of being home. It was about a month between her first go on the boob in the NICU and being fully breastfed. 
I gave the milk I'd been so kindly given back to the other mum. I even donated some of my own frozen milk a few months later to another mama for a baby with the same name as mine! I never could have imagined I'd have enough to be giving it away.
I personally find breastfeeding so much easier than pumping ever was. No more sterilising, no more equipment. I can feed her anytime, any place; in the sunshine, on the beach, in the car, on bush walks, anywhere we feel like. 
I find it a million times easier and more rewarding to wake up in the night and feed her and have a cuddle than it was to wake up to an alarm and pump in a cold room, looking at pictures of her tiny body hooked up to lines and wires everywhere and smelling a muslin that she'd slept on to try and trick my body to make some oxytocin. 
There are moments now when she wakes up even at 3am for a feed and her warm sleepy body melts into mine and she's just perfection.
Sometimes when she's feeding she'll catch my eye and pause and grin and then carry on, it warms my whole heart. When she's tired and full after a really good feed, as I move her from my boob to my shoulder she pulls a very particular face and it quickly became one of my favourites. 
Breastfeeding has helped me heal the guilt of my body failing her in pregnancy. My body was disconnected from hers far too early but I got that connection back and am able to be everything she needs. 
Despite her being so early, and my low supply, we did it anyway. I was eventually able to slowly come off domperidone and still my supply is enough. 
She's nearly a year old old now (8 months corrected) and she's having solids too. She's never had a bottle and she's never had formula. She's grown from 770g to over 10x that, she's almost 8kg. And she's done that mostly from my milk!
I'm so lucky to have had so much support from my spouse, my mum, and my friends and family to support me in my efforts and help me achieve the goal of being able to fully breastfeed. 
Breastfeeding is one of my favourite parts of being her mama.
I wish that on day one, when someone I'd never met was squeezing liquid gold from my nipples, someone had told me we'd make it this far, that it was possible, and that it would be worth every second 💜
Having the pumps to hire from The Little Miracles shop right there in NICU was such a game changer, it meant I didn't have to think about it and I hired one from the first week. Later on I purchased a pump to try for home but it really didn't work for me, I couldn't hardly get any milk with it. I really needed the hospital grade pumps to get any decent volume of milk. I ended up using the hire one for the whole time until I was home and fully established breastfeeding.
Thanks again Little Miracles Trust!!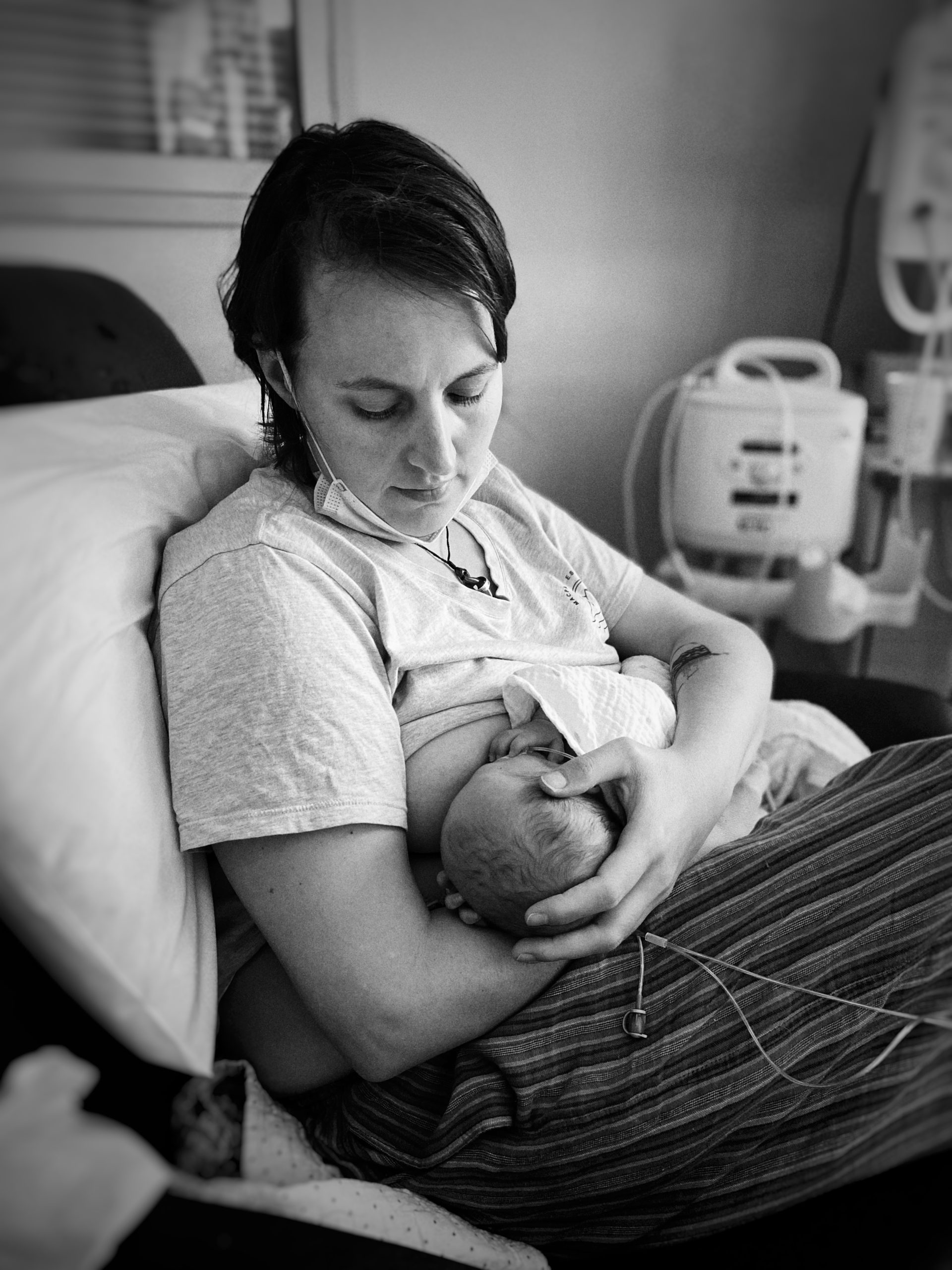 ***** Thanks so much for sharing your story as part of World Breastfeeding Week *****
We get a lot of positive feedback from families in a neonatal unit who read these stories and feel strength, hope and positivity knowing that they are not alone going through these experiences and feeling certain emotions.
If you would like to discuss sharing the story of your neonatal journey, we'd love to hear from you. Please email info@littlemiraclestrust.org.nz
If you want to help our support of families going through the stress and anxiety of a neonatal journey, you can donate here.
The Little Miracles Trust provides support to families of premature or sick full-term babies as they make their journey through Neonatal Intensive Care, the transition home, and onwards. We do not receive any Government funding and are entirely reliant on the generosity of individuals, companies and organisations in the form of donations, value-in-kind donations, grants, sponsorship and fundraising events to supplement operating costs and fund our services and initiatives.
As we are a registered charity (CC56619) with Charities Services New Zealand we will send you an IRD compliant tax receipt – this will happen automatically by return email