As told by mum, Jessica
My name is Jessica and my identical twin boys Archie and Luca arrived via emergency c-section 10 weeks early.
Archie was very keen to make an entrance and decided that 4am on a Friday morning at 29w6d was a great time to break his water. We managed to stop labour and administer 2 steroid shots 24 hours apart.
My husband Kieran and I weren't sure what to expect, however the lovely staff at Auckland Hospital did a great job at keeping our minds at ease.
On Sunday (30 weeks), Kieran spent the day keeping me company and had only just got home when I started to have some pain and Archie became tachycardic. The doctors suspected I had developed an infection and as such the decision was made to have an emergency c-section. Kieran made it to the hospital as I was being wheeled off to the theatre prep room. Although I was very nervous, the staff were very reassuring and comforting.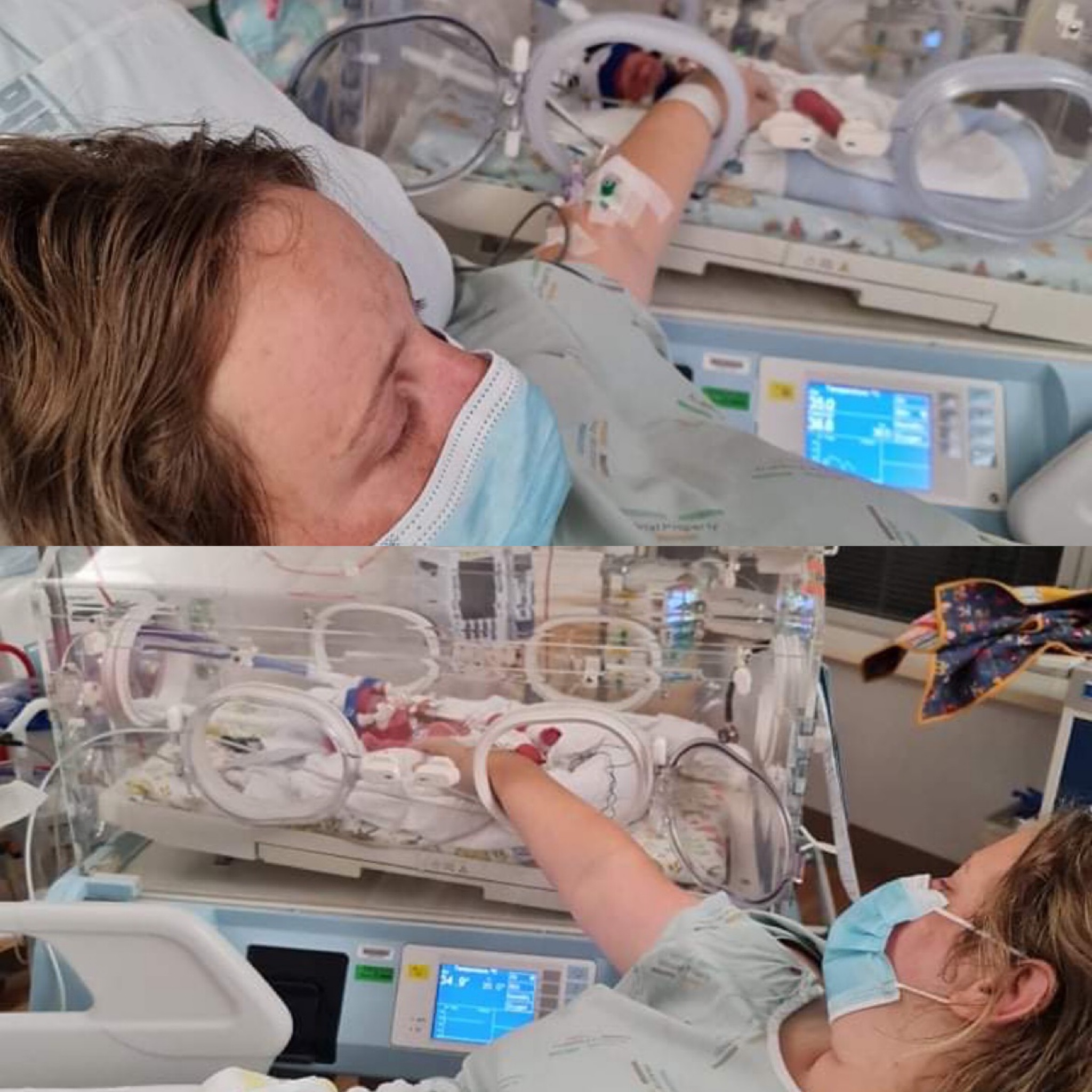 Archie Wooley Berry arrived at 1901 weighing 1580g and Luca Wooley Berry arrived at 1904 weighing 1350g. They were both whisked off to NICU with their dad in tow. Once my surgery was over, I got to meet my beautiful boys for the first time. It was pretty overwhelming being wheeled into the NICU and seeing all the wires and machines they were hooked up to, especially the breathing support (CPAP), however, I knew our boys were being well looked after.
We spent 2 weeks at Auckland NICU before being transferred to Waitakere SCBU where we spent a further 8 weeks. Archie spent 5 weeks on respiratory support and Luca spent 7 weeks. Our 10 weeks in hospital was an emotional roller coaster with lots of unexpected twists and turns. No words can express our thanks and gratitude to the NICU & SCBU nurses. They were so amazing and supportive throughout all the tough moments and the exciting ones too!
I am happy to report that Archie and Luca are thriving and loving life! You wouldn't be able to tell that they had such an eventful start to life!
***** Thanks so much for sharing Jess *****
We get a lot of positive feedback from families in a neonatal unit who read these stories and feel strength, hope and positivity knowing that they are not alone going through these experiences and feeling certain emotions.
If you would like to discuss sharing the story of your neonatal journey, we'd love to hear from you. Please email info@littlemiraclestrust.org.nz
If you want to help our support of families going through the stress and anxiety of a neonatal journey, you can donate here.
The Little Miracles Trust provides support to families of premature or sick full-term babies as they make their journey through Neonatal Intensive Care, the transition home, and onwards. We do not receive any Government funding and are entirely reliant on the generosity of individuals, companies and organisations in the form of donations, value-in-kind donations, grants, sponsorship and fundraising events to supplement operating costs and fund our services and initiatives.
As we are a registered charity (CC56619) with Charities Services New Zealand we will send you an IRD compliant tax receipt – this will happen automatically by return email.