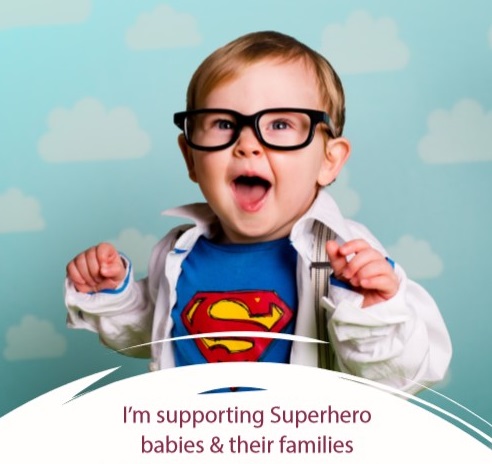 The Little Miracles Trust is priviledged to have the support of Baby Sensory
For some time, we've been working together and sharing information to help those on a neonatal journey.  Using their research based material, we've co-produced support material:
A 'Senseathon' to raise funds and awareness
This March, Baby Sensory and Toddler Sense classes across New Zealand have chosen to support The Little Miracles Trust and will be running special Superhero Senseathon classes, raising funds to support our vital work.
What is the Superhero Senseathon?
Babies, toddlers and their carers will be donning their Superhero capes and raising funds and awareness for babies born early – it's Superhero babies and toddlers supporting other Superhero babies and toddlers!
The Superhero themed 'Senseathon' will be a wonderful and fun event and all participants (babies, toddlers and even parents!) are encouraged to come dressed as their favourite Superhero.
Funds raised by the event will go directly to The Little Miracles Trust.
How can you get involved?
Baby Sensory and Toddler Sense sessions will be running across Australia and New Zealand.
1. Register to attend one of our Superhero Senseathon events by contacting your local Baby Sensory or Toddler Sense class leader, visiting  www.babysensory.co.nz to find your nearest class, or here: https://www.wowworldgroup.co.nz/superherosenseathon2022
2. Ask everyone you know to sponsor your little one by sharing the fundraising link https://givealittle.co.nz/cause/baby-sensory-and-toddler-sense-superhero
3. If you can't attend an event, don't worry, you can also donate online directly by visiting the link above.
4. Buy a ticket in our national raffle – for more information visit www.wowworldgroup.co.nz/senseathonraffle2022 or contact your nearest Baby Sensory or Toddler Sense class leader.
5. Have fun on the day! Bring a friend… or two!
The Superhero Senseathon was run in New Zealand for the first time in 2019, raising over $8,000 for The Little Miracles Trust
There are 14 Baby Sensory and Toddler Sense areas currently operating across New Zealand
Over 1,200 babies and toddlers per week attend either a Baby Sensory or Toddler Sense session in their local community
About Baby Sensory

Dr Lin Day (PhD, M.Phil, PGCE, BSc, Dip Ed), is one of the UK's leading parenting experts and a renowned author within the field of childcare and education.  With over 35 years of practical experience working with parents and children and driven by the passion and commitment to offer the best possible service, Dr Lin Day developed Baby Sensory, Toddler Sense and Baby Foundations to provide the support and knowledge necessary to lead baby learning and development forwards in the most important first years of life (and ran classes herself for 9 years).
Baby Sensory was the first (and original) baby programme to offer a complete approach to learning and sensory development from birth to 13 months. The multi award-winning Baby Sensory programme has been designed specifically for babies from birth to 13 months based on over 40 years of research into babies' learning and development.
Beautiful activities and magical experiences help support babies' development while providing hundreds of ideas for play. By explaining the "why" behind everything they do, Baby Sensory class leaders provide you with the tools to help continue the fun and learning at home.
Toddler Sense sessions continue the fun for toddlers from 13 months to 3.5 years and are jam-packed with fabulous activities and fun adventures to help adventurous toddlers burn off excess energy and develop vital physical, communication, social and intellectual skills that form the foundation of all future learning.  Classes encourage imagination and problem solving through sensory play and role play and no two weeks are ever the same.
Carefully planned sessions include time for energetic toddlers to develop their physical skills in the adventure play area, followed by structured and themed class leader led activities, giving toddlers time to explore, learn and make new friends.
To learn more, head to www.babysensory.co.nz