As told by mum, Kerin 
Jason and I's journey to parenthood began in 2000. We'd been married 5 years, done the big O.E. and were ready to take the next step. It took us 6 months before we conceived. I had a textbook pregnancy and labour and our daughter Tayla was born in April 2001. Perfect!
In 2004, we suffered a miscarriage at 7 weeks.   Later that year, we fell pregnant again and by 12 weeks we had started to tell people our good news but sadly at 18 weeks my waters broke and our son Bailey was born at 19 weeks on 28 September. I had felt him move for the last time about 2 hours before he was born. We said our goodbyes, dressed him, took lots of photo's, took his hand and foot prints, had him blessed and had a private service with just Jason, Tayla, my Mum and I the next day.
Our lives had been shaken up. Jason had lost the son he always wanted, Tayla had lost her brother and I was just lost. Friends and family were great, and support was always there. People had trouble talking about Bailey though.
In 2005, we had another miscarriage. I wondered why I was losing these babies, but I was never given a clear answer. I was just told that each case was completely different. I wanted to give Tayla a brother or sister to play with, but would we have to go through more pain? Jason was very reluctant to try to get pregnant again. He didn't know if I could go through the heartache. I managed to persuade him and yes, I got pregnant again!
After some terrible morning sickness, things were going well. However, at 23 weeks I started to leak amniotic fluid, and was given steroid injections to help develop the baby's lungs. Then I was flown to Waikato Hospital in case I went into labour. My plan was to sit in this strange hospital for the next 5 weeks (til I could be sent back home where they can look after babies from 28 weeks).
Jason and I were visited by a nurse from the newborn unit who talked us through the scary process of having an extremely premature baby. I looked at the pictures and listened to her talk but all the time thinking "Well, this isn't going to happen to me!" She said that if I went into labour before 24 weeks they would do nothing to help the baby, as 24 weeks is termed the age of viability. She asked whether I would want them to intervene and help my baby survive if we did make it to 24 weeks. My response to this question was extremely passionate. I told them that this was my fifth pregnancy, I had only one surviving child, and I was never going to be pregnant again, so yes, of course I wanted them to do everything in their power to help this baby survive!
About a week later, I was in labour again, and Eden Jade was born weighing 650g (1lb 7oz). She was making attempts to breathe by herself but needed help. Once she was stable she was quickly wheeled past me. She had her eyes open, which is very unusual at 24 weeks and 4 days. That gave me hope.
When we visited Eden the next morning, we were told her outlook wasn't good. She was on 100% oxygen through the ventilator, but her oxygen saturations were only 62 to 74%. I looked at the monitor and nearly passed out when I saw her blood pressure was only 21/12. Her vital signs were not good. Throughout the morning she slowly started to improve, and then we were taken to the post-natal ward.
In the afternoon Mum arrived with Tayla, who had been staying with her. It was so good to see them. Tayla couldn't wait to have a cuddle with her new sister but she settled with touching her tiny foot instead, since cuddles were impossible. We also arranged for Eden to be baptized. Later, Eden's oxygen was reduced to 21% and her oxygen saturations were 100%. She was doing very well and was in what we called 'the honeymoon phase'.
Eden had had a tough first week full of many procedures—head scans, heart scans, blood tests, heel pricks, blood transfusions, central line insertion, arterial line insertion, IV lines inserted, chest tube inserted and removed, feeding tubes, x-rays, physiotherapy, suctioning, aspirating, feeds, cares, phototherapy and humidification. This was just the start of the many procedures she'd have.
One of the babies in our room passed away the day Eden turned a week old. it was extremely upsetting and hit home just how vulnerable all these babies really are and just how precious all this time spent with them is.
As time went on, Eden was doing well. She was growing steadily and had not dropped weight since birth. She was quite the attention seeker and was developing a reputation with the nurses. When Eden was 1 week and 6 days old, I got my first cuddle! I was so scared of getting her out of the incubator with all her attachments. It took two nurses to maneuver her and get her set up in my arms. But was well worth the effort and just the therapy I needed.
After endless ups and downs with one problem after the next, at 3 weeks old Eden was feeding and growing. Her awake periods were fun as she was very alert. The only medication she was having was an antibiotic. Eden and I had our second cuddle, then the third. The third one didn't go so smoothly getting her in and out of the incubator and she cried, which made me cry too.
When Eden was about a month old I decided to venture out for a bit of retail therapy with a friend I'd made who also had a prem baby. The prem clothes we saw were huge for our babies, but then we spotted the teddy bear clothing range, with tiny clothes for kids to dress their teddies. Perfect! I chose a top for Eden. It was the first item of clothing I had bought for her and I was excited.
Eden was awake and alert when I returned. The nurse was just as excited about the top as I was, so we put it on her. The sleeves were rolled up a few times and it came down to her knees like a dress, but it looked good! It made the doctors smile when they came in to do their rounds.
The next day, at 37 days old, Eden reached a milestone I had been looking forward to. She weighed just over 1kg and was given a certificate! At six weeks old another brain scan was done as well as the first eye check. Results of these were both good, and there were no signs of any brain bleeds or damage to Eden's eyes due to the large amounts of oxygen she had received.
After a while, Eden was growing steadily and no longer had transparent skin. She still had very visible veins though, which looked a bit like a road map over her abdomen. She has multiple needle insertion scars on her hands, arms, legs, feet, neck and groin. She also has a crescent shaped scar beside her naval where the arterial line was stitched and another scar where the chest drains were inserted. Her body sure tells a story!
On Monday 21st March, after being away for a few days, I rang the unit to check on Eden. They informed me that they had done another ultrasound of her kidney, which had been having problems, and it was now looking normal. Then they told me they would be flying her home the next day! Words simply cannot describe how fantastic that felt and I burst into tears.
When I dropped Tayla at kindy the next morning I had trouble containing my excitement. I told the teachers I would come and pick her up when I heard what time Eden's helicopter was expected to arrive. It didn't take long before the unit was ringing to say she was on her way. Apparently, the helicopter's flight path was right over the top of the kindergarten, so the teachers had all the kids outside watching the chopper that was bringing Tayla's sister home! After 9 weeks Eden was finally home in New Plymouth.
The 30th of April was a very special day. It was a week before Eden's due delivery date, she was 102 days old AND it was the day we had all been waiting for … we were going home! I could hardly contain my excitement and the day seemed to drag on forever. Eden was weighed, 2510g (5lb 8oz), an eye check was done and we were seen by the oxygen lady to arrange delivery of cylinders. After five and a half weeks in this unit we said our fond farewells to the wonderful staff who had become like family to us.
Eden settled in well at home. She fed well, slept well, and slowly and steadily put on weight and grew. Eden had her 3-month vaccines early in July and she became unwell following them. She was admitted to Children's Ward due to vomiting, a wheeze, not feeding and being generally unwell. I took her home after 7 hours but had to return the next day as she was still not feeding and nor had she had a wet nappy. She started to improve later that day and I was happy to take her home again, knowing that I could return any time if I needed to.
On the 19th of August, Jason went to Rotorua with a group of friends to participate in the 'Tough Guy competition. The following morning Eden's condition had deteriorated significantly. She was pale, lethargic and working hard to breathe. I increased her oxygen delivery rate and rang Children's ward in a panic. They told me that because Eden was not on the direct admissions list, (which she should have been!) I would have to take her to a walk-in clinic and get her assessed and referred to the hospital. With no time to argue, I packed up the girls and took off to the nearest clinic.
In the waiting room, I started to panic. I sat Eden on my knee supporting her. She was so weak. She just looked at me longingly as if to say "help me, Mum". I then noticed one of the girls from my work was also in the waiting room. She took one look at Eden and shock on her face reinforced my worst fears. This moment would replay over and over in my mind for years to follow.
I knew I couldn't sit there and do nothing. I took out my cellphone and called the Neonatal Unit. The nurse who answered knew things were serious and told me to go directly to the Childrens Ward, saying she'd ring and notify them of Eden's condition and to expect our arrival ASAP. 
I was so scared that Eden was going to stop breathing on the way to the hospital—she had deteriorated so quickly. Eden was so pale; her oxygen saturations were in the 70s, despite me increasing her oxygen rate. Her chest and neck were being sucked in with each breath. She was now struggling so hard to breathe.
We were told Eden's body had started to shut down. Eventually, the doctors managed to get a line in her head. X-rays were done and showed a lung white out. Bloods, swabs and secretion specimens were sent to the lab. Eden was sedated and returned to the unit to be put into isolation and back on CPAP, a machine that helped to keep her airways open.
Jason had been competing and didn't have his phone. He eventually rang me after he finished, wondering why he had so many missed calls. He was torn. He wanted to come home but was exhausted after the event and didn't think he could face the 4-hour drive. I agreed that he should stay the night and head home in the morning. I couldn't cope with anything else going wrong.
The results from the tests came back showing that Eden had RSV+ve Bronchiolitis, a disease that babies from our region weren't vaccinated against, even though babies from other regions were. Oh, how we wished she had it!
Eden remained sedated and on CPAP for 3 days, but her condition continued to worsen. On the 23rd August, after lots of communication with the Paediatric Intensive Care Unit (PICU) specialists at Starship Children's Hospital, a decision was made to ventilate Eden and have her flown up there. It was 2.25am when we arrived. Eden was taken to PICU and handed over and settled in. There were monitors and machinery everywhere.
After doing okay the first few days, by the Saturday, Eden wasn't good. The doctors did what they could, but her condition still worsened over the long, stressful day. At 12.30am we were called back to the unit. Eden hadn't improved and her oxygen levels were low. The consultant was unsure Eden would make it through the night.
Jason and I agreed that Eden should be given her last rites and the Catholic Priest was called. I could not accept that Eden was going to die and as soon as the Priest had finished, I looked at him and demanded that he tell God he couldn't take her. The priest looked at me in stunned silence and I broke down in tears.
Jason and I sat with Eden, holding her hands and talking to her for the next few hours. The whole time I was willing her oxygen saturation numbers to go up. They did slowly climb—67%, 68% and 69%. Then they made it to the 70s and continued to climb till they got to the mid 80s.
While we were at Starship, my Mum was keeping Tayla busy at home. She missed us all like crazy. Mum kept asking if we wanted them to come up, but we just weren't ready to expose them to what we were going through at that time. We wrote to and rang Tayla every day, and updated Mum with texts often. It was heartbreaking as Tayla would sometimes cry, wanting us there with her. It was an extremely hard situation for a 5-year-old to comprehend.
Eventually, after many more ups and downs, Eden was given the 'all clear' on the 3rd of October we took her home. Again. I was so happy. There were many times I didn't think this day would come! At home Eden continued to progress well. By the 18th of October, Eden decided that she didn't need the feeding tube anymore and so she pulled it out.
On the 18th of November, at almost 9 months old, Eden rolled over for the first time. Two weeks later, she sat up for the first time. She was a very happy, smiley, contented girl. Eden's first birthday was the 19th of January and we held a huge party the next day to celebrate this wonderful milestone. Eden weighed 6kg on her first birthday. She was growing slowly but steadily. By 14 months her first tooth cut through, at 15 months old she crawled for the first time, and she began walking by herself just after her second birthday.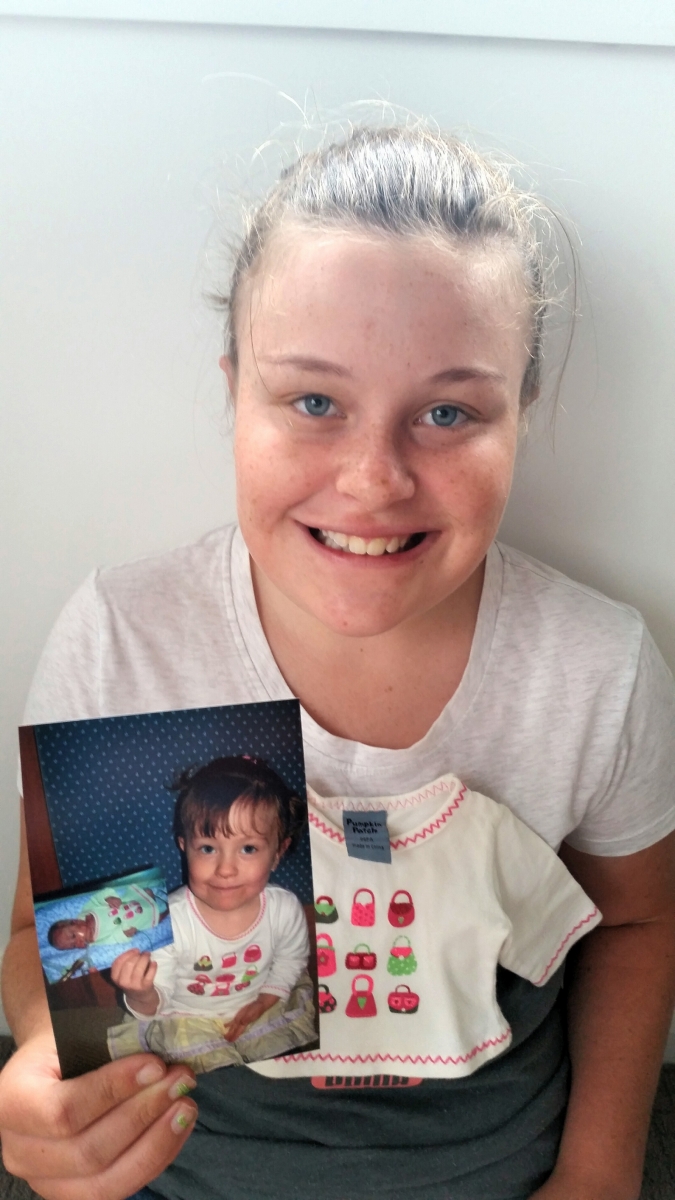 Eden is now 12, her extreme prematurity has come with obstacles such as hearing loss, intellectual delays, the atrophy of the left kidney and the blockage of a main vein.  Despite these challenges Eden has grown into a social, expressive, determined caring and loving girl who has a smile that lights up a room. We are so lucky to have her in our lives. 
*** Thanks for sharing your story Kerin ***
We get a lot of positive feedback from families in a neonatal unit who read these stories and feel strength, hope and positivity knowing that they are not alone going through these experiences and feeling certain emotions.
If you would like to discuss sharing the story of your neonatal journey, we'd love to hear from you. Please email info@littlemiraclestrust.org.nz 
From the story above:'
Skin to skin 'Kangaroo Cuddles' are great for both your baby and also the parents. Learn more about this great practice here: Kangaroo Cuddles overview
Interested in how The Little Miracles Trust supports families going through the stress and anxiety of a neonatal journey?  
Here's a gallery of support examples.