Our great friends at One Percent Collective have just hit a great milestone, having now generated over $500,000 for its Partner Charities!
The Little Miracles Trust is privileged to be supported by One Percent Collective. Learn more about them by:
Reading the text below from the article on Stuff.co.nz
Checking out the full article here
Viewing the graphics and information at the bottom of this page
From the article on Stuff.co.nz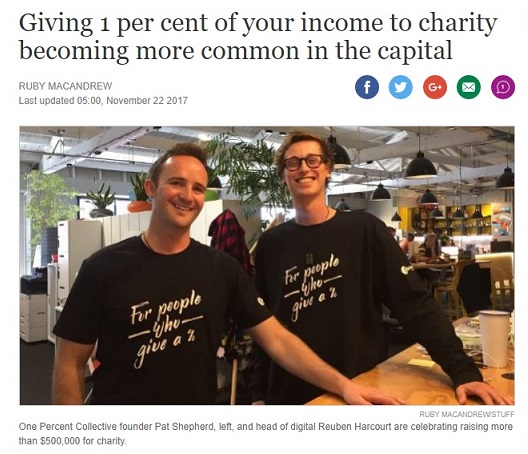 Bit by bit, more than 340 generous Kiwis have given half a million dollars as members of One Percent Collective since it was established by Pat Shepherd back in 2012. It works by people donating 1 per cent of their pay cheque each week, fortnight or month, which is then wired directly to the 11 charities it supports.
"For us, it's all about inspiring people to give on a regular basis and to improve the regular giving experience," Shepherd says.
While it's a huge figure to have reached, Shepherd says it's just the start, with a far more ambitious goal in mind over the next 12 months. "From this week, we're essentially planning to supercharge the collective to try and reach over a thousand people by next November.
With the average donation sitting around $10 a week, 1,000 donors would raise about $500,000 annually.
It hasn't always been smooth sailing getting the collective to where it is today, with plenty of challenges along the way for Shepherd and his small crew.
"When I started out I knew I wanted to always pass on 100 per cent of donations to our charities, so that meant I had to cover operating costs in more creative ways. But that didn't always work. Those hurdles were overcome, and last year Shepherd was able to hire another team member, Reuben Harcourt, as head of digital.
The collective recently released a report finding that more than 50 per cent of its donors were under 35.  "I think the 1 per cent idea resonates with young people a lot," Shepherd says. "They probably don't have a lot to spare, but most can go without that amount pretty easily. . .    it's a chance to be a part, and an equal, in a community all giving one per cent."
Anyone interested in finding out more is asked to visit onepercentcollective.org.
To read the full article on Stuff.co.nz head here
**************************************************
The One Percent Collective model of raising awareness and facilitating continual giving is perfect for a charity the size of The Little Miracles Trust – as this type of support will enable us to free up time and focus our efforts on the thing which matters most: supporting families going through the stress of a neonatal journey (i.e., moving efforts from fundraising to support initiatives). It really does make a difference in helping us to provide more of this support.
 
How the One Percent Collective model works
If you'd like to consider supporting The Little Miracles Trust through the great One Percent Collective model, learn more about how it works below.
It's really as simple as 1, 2, 3 and in the example below we've shown a wonderful donor splitting their donation between The Little Miracles Trust and Bellyful. The second graphic shows some of the many benefits of the One Percent Collective model. 
Want to learn more?  Head to www.onepercentcollective.org/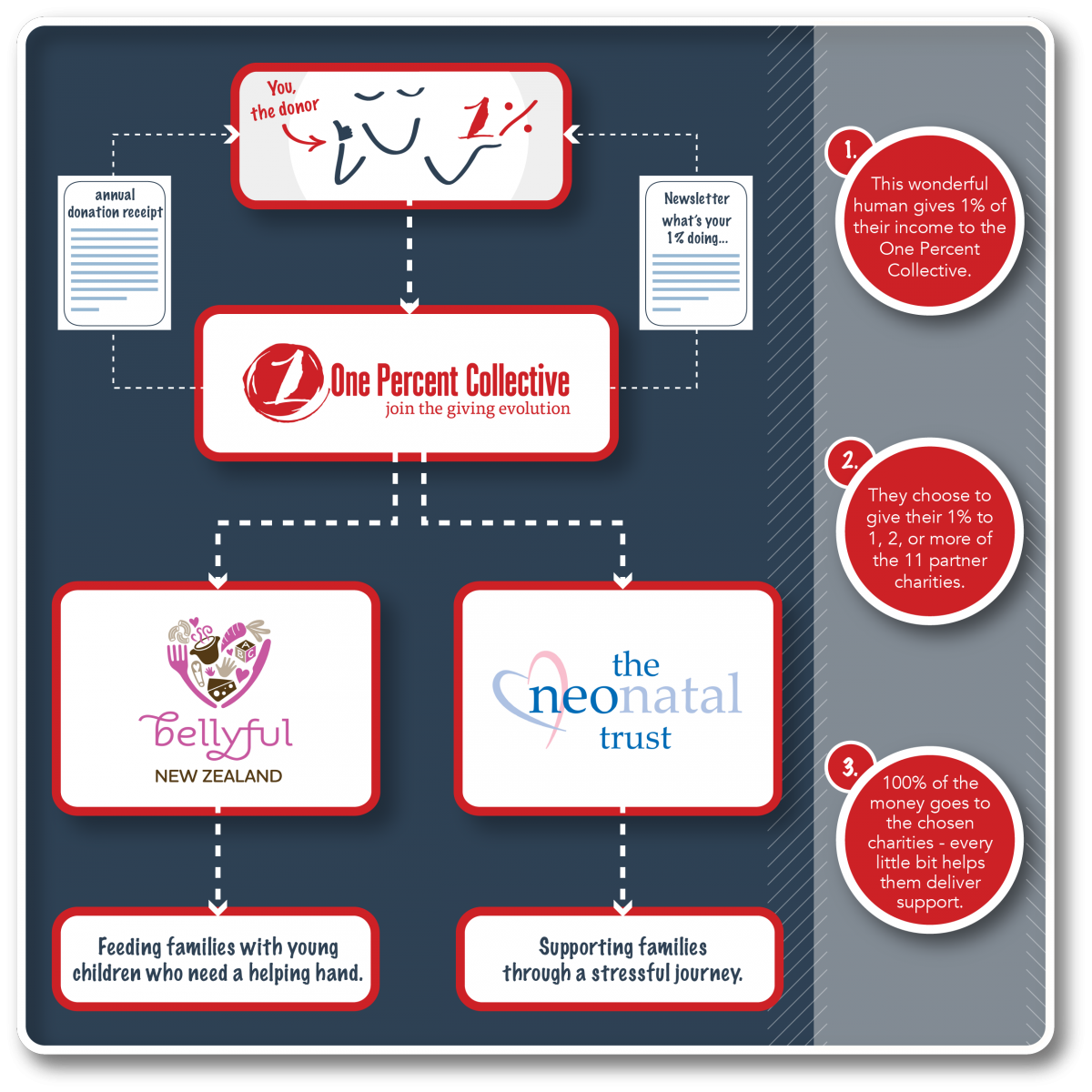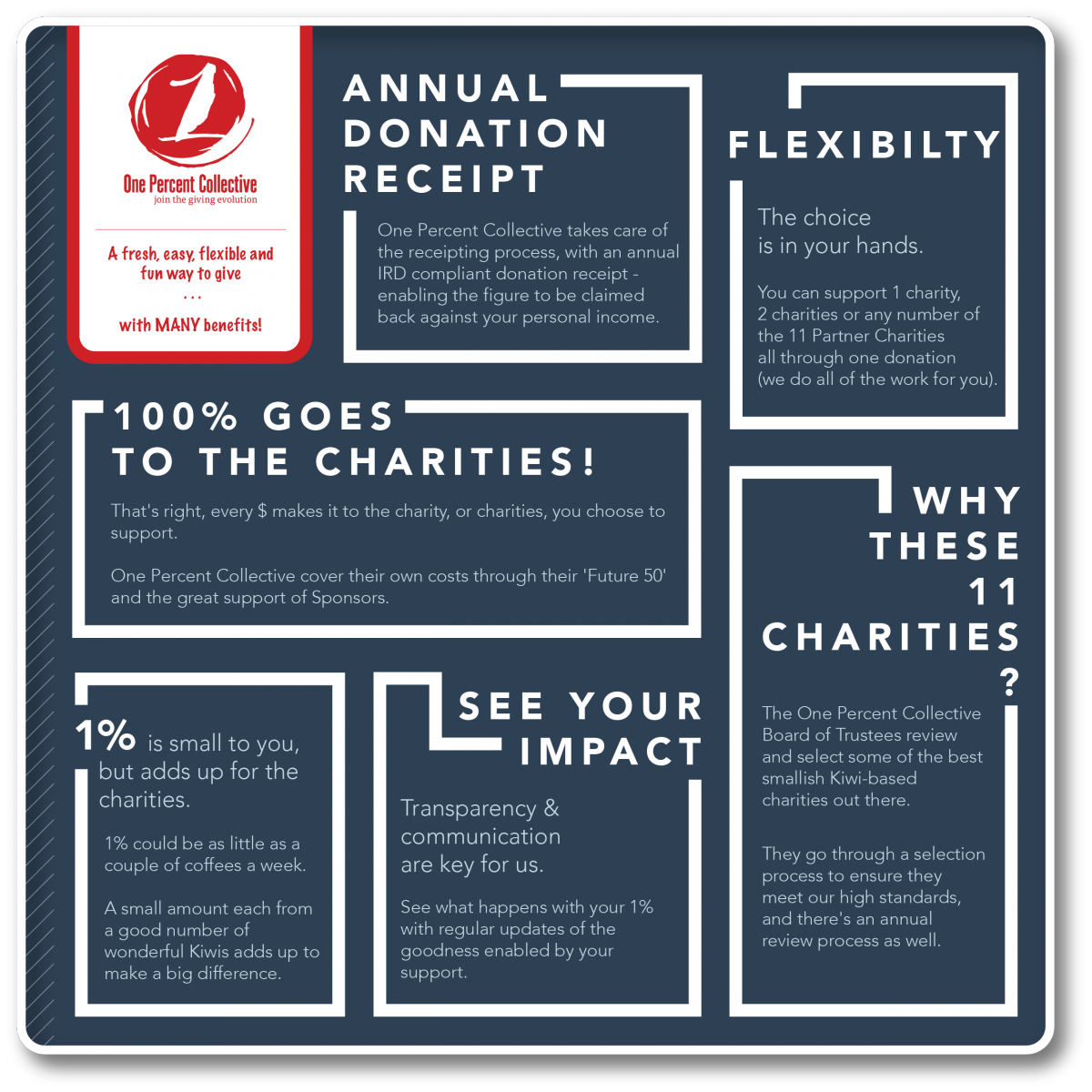 Raising awareness is also a big part of what the One Percent Collective does.
Here's a great story shared by One Percent Collective of a neonatal family supported by Bellyful:   Read Keeping the Plates Spinning
 * Bellyful is one of the 11 Partner Charities One Percent Collective also supports
While donations are processed through One Percent Collective, 100% of the money goes directly to a donor's chosen charity or charities – as the One Percent Collective cover all transaction and processing costs. They spread awareness of the benefits of regular giving and supporting charities in this way. 
Founder, Pat Shepherd, says "One Percent Collective was born out of an idea to change the way Kiwis give to charities; by encouraging them to donate one percent of their income to help grow smaller New Zealand-based charities. One Percent Collective is all about inspiring generosity and simplifying the notion of regular giving to causes that we really care about."