We're grateful to all those who provide their ideas, time and donations to The Little Miracles Trust.  With their efforts, we can provide more of this support to neonatal families. 
Here's a few details on a couple of great organisations in the Waikato!
Waikato East Federation Women's Institute
The New Zealand Federation of Women's Institutes is one of the biggest and most far reaching groups bringing together and supporting women in our local communities in New Zealand. So, we are thrilled to have an opportunity to partner with the Waikato East Federation Women's Institute in working towards helping families with sick and/or premature babies in the Waikato Neonatal Intensive Care Unit (NICU).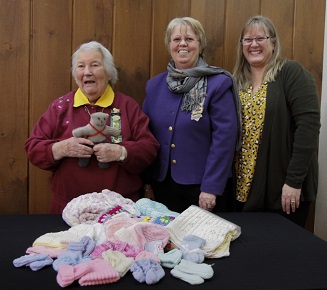 We would like to extend our thanks for all of the lovely knitted woollen cardigans, hats, booties and blankets produced by the ladies of the 12 WI's in our region, which are much appreciated by families wanting to keep their precious babies warm this winter.
 
We are also incredibly grateful to be 'adopted' by the Womens Institute, allowing us to work together to help families and babies in our region to make their difficult start to life a little bit easier.
Lily Pad Café
The lovely Lily Pad Café in Cambridge is not only a great location for lunch or a tea time treat, with a fun gallery and garden to boot, but also boasts some lovely people with big hearts and a mission to give back to their own community. Each month The Lily Pad Café chooses a local Waikato charity to publicise and support, and we are very grateful to have been their charity of choice for July. A big shout out to everyone at The Lily Pad your support, and thank you to everyone who donated via our collection box or online via our website.