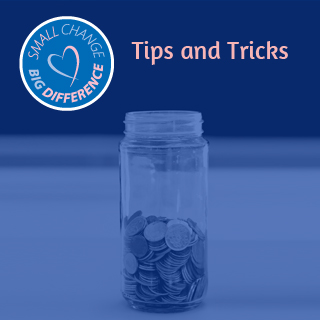 We are well underway with our Small Change Big Difference fundraising and awareness campaign and have some great support from the neonatal community. 
Some people and organisations are putting up containers to collect small change from 1 November right until World Prematurity Day on 17 November.  But we also have others who are doing great one-off events, such as a kindy who are going to have a "wear purple day" and donating some small change (purple is the colour of World Prematurity Day), and a lovely young NICU graduate who is going to do a bake sale at school to raise some money for the Trust. Baking does seem to be one of the more popular options, and there's been some great feedback on the free recipes we've provided from the Welcome Home Cookbook.
Remember:  this campaign is it is flexible and it's not too late to get involved and can be done any time in November! A few organisations and also schools already had things booked around the 17th November so they're looking to run their one-off activities toward the end of the month, which is just fine.
Here are some ideas:
– have a game with your family/flatmates/children and have a competition to see who can find the most small change around the house.  You could make this a competition between your work mates – who can find the most small change around house this weekend!
– have a bake sale at work (purple icing of course!);
– let your employees (or ask your boss) wear mufti for the day in exchange for donating some small change;
– fill a jar with lollies and run a raffle to guess the number of lollies in the jar. The winner takes the lollies.
To approach your employer, daycare, or 'other', we've provided a PDF of Tips and Tricks to print off. Or, send them along to this page: staging.littlemiraclestrust.org.nz/smallchangeregistration
Any small change you can gather for us in November, any time on any day, will make a big difference to us, in
making a difficult start to life that little bit easier