32 weeks, 1004 grams
After a perfectly straightforward pregnancy and a birth that went so smoothly we were able to take our first daughter home three hours after she was born, we were expecting a similar story for our much wanted second pregnancy.  How wrong we were. 
Our stressful time began when I was about 13 weeks pregnant with Frankie and the 12 week blood tests indicated a significantly increased risk of chromosomal abnormalities.  We chose to have an amniocentesis, not knowing what our decision would be if there were any significant problems, but wanting as much information as possible about our baby.  The choice to have an amniocentesis was particularly intense for me, because I had spent 18 months completing an MA thesis on the ethics and women's experiences of amniocentesis ten years previously. We waited weeks for the final results and on Christmas Eve 2012 our consultant called us to tell us we were expecting a perfectly healthy daughter.  
A few weeks after our amniocentesis results came through, our midwife started to raise concerns about Frankie's small size and at 27 weeks we were told our baby girl was severely growth restricted and would likely be born that week.  Testosterone was administered and we were told that given her extremely small size we had a 50% chance that we would bring home a healthy baby.  While my husband Jase interpreted this as a good chance, this was quite a devastating figure for me.  The next four weeks were like a roller coaster, with continual growth scans, monitoring of the baby, and frequent appointments with our midwife and consultants. The stress and worry of the unknown was fierce and all-consuming for both of us.
Our new family mantra was "Grow Frankie Grow" and there were lots of skype and email messages from my family overseas telling Frankie to get growing.  The toll on my parents, in Vancouver (Mum) and London (Dad and Stepmum) was hard.  Two of my siblings had died at birth, and my father later told us he was worried he would be coming over for a funeral, rather than to meet a new granddaughter.  My parents had flights booked to visit after the baby was due and it was decided to keep these to provide support once the baby was at home.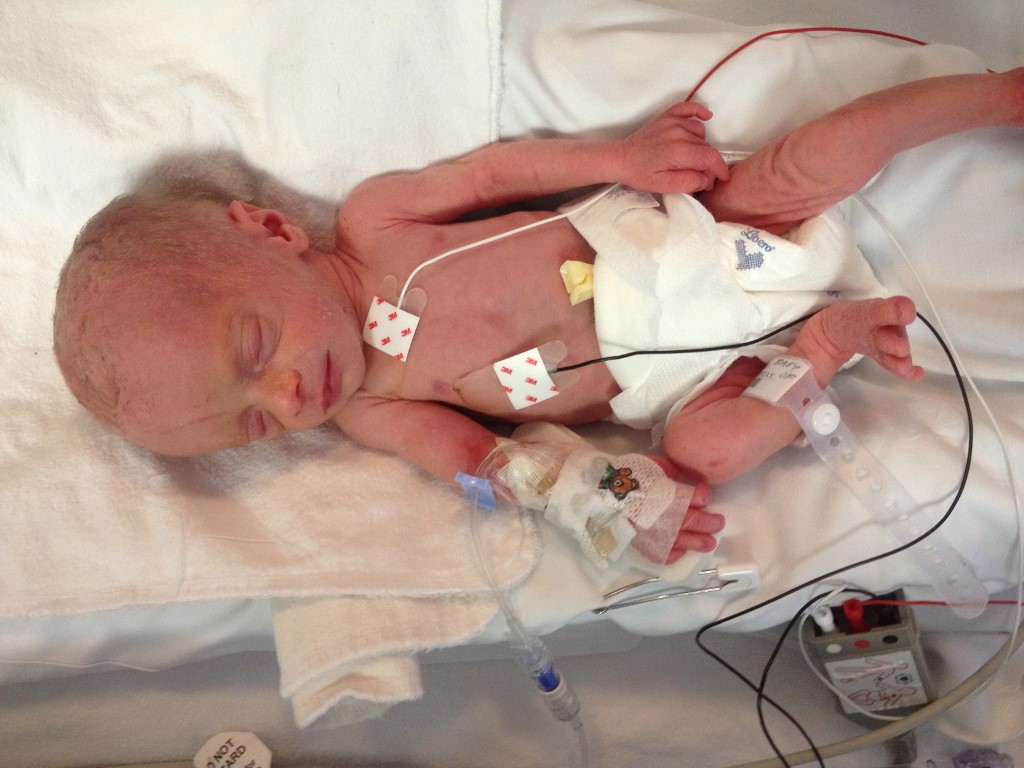 After lots of resting, eating omelettes and drinking complan, and of course stressing, we managed to get Frankie to 32 weeks.  I was induced with the intention of attempting a natural birth, but after a day of not much action and ending with an erratic fetal heart rate, Frankie Mae Macdonald was delivered via emergency c-section at 5.06pm on 22 April 2013. Although, various health professionals had told us how small Frankie would be, it was still shocking to see how tiny she was at 1.04 kg (2 pounds 2 ounces).  Our Frankie immediately made her fighting spirit known and surprised everyone by screaming her little lungs out as soon as she was born and not needing respiratory support.
Our six week NICU journey had begun. Jase followed Frankie while the paediatric team stabilised her, and after post-operative recovery I was wheeled into the then tiny Dunedin Hospital NICU for a cuddle the night Frankie was born, but felt very nauseous and couldn't stay long. The first days were very difficult, the realities of having a baby in NICU hit home, we couldn't care for her or hold her when we wanted, or feed her.  Two days after Frankie was born, I was able to kangaroo cuddle her for 2.5 hours and it was a wonderful time of bonding and the first time Frankie felt like our baby.  Life for us became focussed on the tiny world that was NICU, hand-washing, breast pumps and doing Frankie's daily cares, waiting for the medical rounds and stroking tiny feet and hands.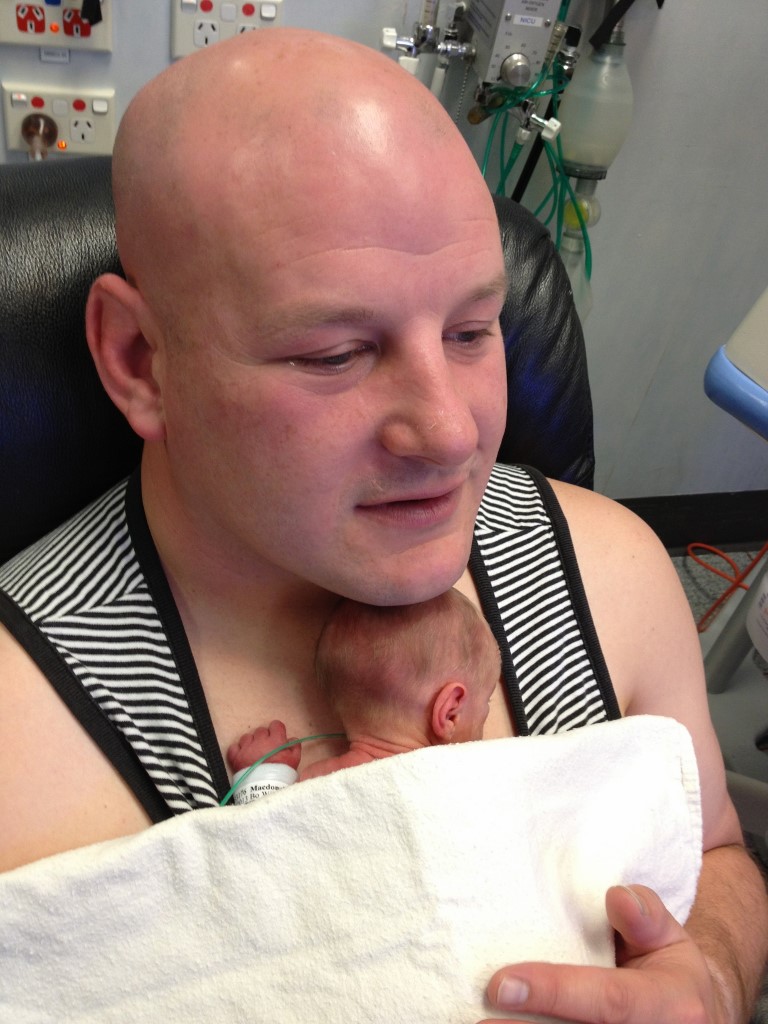 During the time in hospital we received much support from family and friends in the form of child minding, cleaning, cooking, baby clothes, gorgeous gifts, and kind words. Jase's parents were amazing, looking after our other daughter Juno, keeping the household running, planting bulbs and providing a never ending supply of firewood.  Jase's work, the Otago Rugby Football Union were particularly supportive of Jase spending time at the hospital and with Juno, which made everything easier for our wee family.  The Little Miracles Trust was a generous and visible presence and little things like the Mother's Day gift basket left on Frankie's incubator and petrol vouchers were very much appreciated. The NICU nurses were great, so carefully attentive to all the little babies and adept at being a calming voice and friendly face for anxious mothers.  I made great friends with some of the other NICU mums and still enjoy catching up with them when possible.
I was discharged after a week and physically leaving the hospital with Frankie still there was gut wrenching. It was nice for Juno to have her Mum at home, even though I was still at the hospital much of the time. There were other families in NICU, who lived quite a distance from Dunedin and it was very tough for those mothers feeling torn between staying in Dunedin with their premature baby and seeing their other children back home.  
While I was focussed on Frankie in NICU, Jase was caring for Juno, trying to be as supportive as possible and hold everything together. The NICU environment, with the beeping alarms was very stressful for Jase and he found it difficult to stay for long periods of time and this did cause tension at times. Medically, Frankie was a little superstar, she was tube fed and then fully breastfed, and while she did not grow exceptionally fast, she was able to leave after six weeks in the NICU.  In some ways those last couple of weeks, when it seemed as if all the other babies were leaving and Frankie wasn't, were the hardest – they felt never-ending.  But they did end and what an amazing feeling it was to bring our Frankie home, her world suddenly got so much bigger.
Frankie is now a gorgeous, bubbly, bossy, loud, albeit still tiny 18 month old.  We used to pause and sigh when people asked us how old she was – because she is so small, and there is her actual age and then her corrected age to consider, but now we just smile and say she is 1 year old. Frankie is perfectly healthy and we feel very blessed as we know how lucky we are.
Our advice for other families with a baby in NICU, is:
Take photos, you will cherish these – in fact 18 months later and we still look through these photos in wonderment seeing just our far our wee fighter has come;
Ask for help because you will need it and people are desperate to help in any way they can;
Treasure the small moments you get with your baby; and
Just breathe.…and know this challenging time will come to an end and while you may not be the same people you were at the start, you will be stronger.