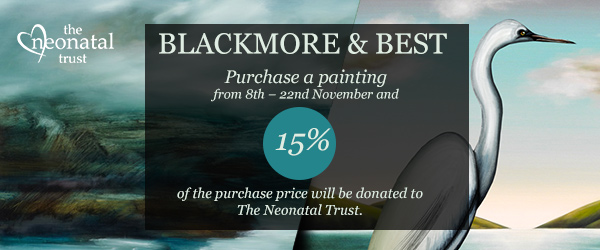 The Little Miracles Trust are incredibly grateful to Jane Blackmore and Juliet Best of The Blackmore & Best gallery. We are privileged to be supported by these great artists in November 2014.
Exhibition support
Their long awaited inaugural art exhibition (8th – 22nd November) spans World Prematurity Day on 17th November. Thanks to the great support of Jane and Juliet if you purchase a painting during their exhibition, 15% of the purchase price will be donated to The Little Miracles Trust.
This is a fantastic way to get a great piece of art for your home, or as a gift, and also support The Little Miracles Trust. Also, if you know of anyone who likes art, who has a business that requires a piece for their reception, board room or meeting rooms here's a chance for them to get a great artwork and support a great cause.
The Little Miracles Trust are incredibly grateful to Jane and Juliet for their support. For questions on the gallery or paintings, please call (04) 388 2357.
To view and/or print a PDF flier with details of this fantastic support
Visit their website: Blackmore & Best
Follow Blackmore & Best on Facebook
Also, you can read about Jane's personal connection.
 
ABOUT THE ARTISTS:
Jane Blackmore
Born in Rotorua 1973, Jane moved to Nelson where she spent the majority of her formative years. She now resides in Seatoun, Wellington where she lives with her husband and 2 young daughters. Jane has been painting since 1996 and graduated in Nelson with a Bachelor of Visual Arts in 2002. She has exhibited in over 30 individual and group shows alongside renowned artists such as Rita Angus, Ralph Hotere and Toss Woollaston.
Jane was awarded first prize in the New Zealand National Women's Art Exhibition in 2007, was a finalist at NZ Art Show 2012 Signature piece awards and continues to gain critical acclaim for her artwork. She sells her work in galleries throughout New Zealand and has international clients in Australia, UK and the USA.
Juliet Best
Juliet explores themes of New Zealand flora and fauna, often bound in historical stories, proverbs and personal reflections. She works in layers often with gold leaf and deep rich colours giving a luminous quality to her elegant and graphic images. Juliet uses tapa cloth, gold-leaf and metallic compounds in many of the series that she works on. Her love and respect of New Zealand and the Pacific is evident in much of her artwork.
Juliet is the guest artist for Air New Zealand Koru Club Wellington for 2014. She will also be the guest artist for the International lounge for 2015.