Little Kickers, football classes for kids 1 – 7 years, is supporting the much smaller 'little fighters' in the world, premature babies in NZ who need our support to survive.
You can't be guaranteed anything when starting the journey of parenthood, one of them being when your precious one/s will arrive! My husband and I (Directors of Little Kickers NZ) found out the unexpected news of expecting identical twin boys (now 5 years old). Once you get over the shock of this you start the not so good google search on your possible journey ahead – it's called a high-risk pregnancy on purpose – as we found out.
At 18 weeks pregnant we found out our boys had twin-to-twin transfusion syndrome (TTTS) which affects approx. 1-3 per 10,000 births or less than 15% of identical twins. Without going into the ins and outs of the condition it did give us an extremely high chance of them being delivered early therefore requiring time in NICU (Newborn Intensive Care Unit).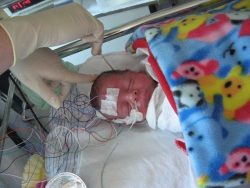 There were some very emotional hair-raising moments of showing signs of labour at 24 weeks and then the possibility of being sent to Sydney for laser surgery (this surgery is now available in NZ) but we luckily got through to 35 weeks gestation. On delivery at 35 weeks, 1.7kg and 2.2kg, they were rushed to NICU. We had a basic understanding of what NICU was all about but nothing can prepare you for all the beeping machines and general numbers flashing here and there and alarms going off. It's such a noisy place for such peaceful innocent little beings.
We had twin 2 (2.2kg) start his life off with a brain seizure at birth so he was hooked up to machines and drugged to keep him stable and the other being so very small that we felt quite lost in these alien looking incubators.
"We found our way through this journey, taking comfort in the support of other parents – some twin mums which I am still friends with – and the support of the wonderful nurses and doctors who invested so much time and energy into the amazing jobs they did daily."
NICU is such an emotional place. Every day I would get dropped off by my husband on the way to his work at 8am and then picked up again on the way back at 6pm. My day would consist of doing their cares (temperature taking, nappy changes, tube feed them and try to breastfeed) and then pumping to keep my milk supply up in-between. The day ended in going home, eating dinner and then more pumping (every 3 hours during the night) and dropping off milk to the hospital at 9pm. This continued on for 5 weeks when we could finally go home as a complete family.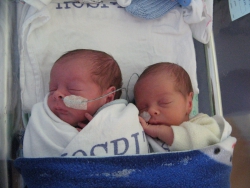 This journey makes life stop, everything outside of NICU becomes irrelevant. Then you get the families where they can't stop their lives, they have other kids to care for and live miles away from their loved ones, let alone those who are dealing with their premature babies having life-saving surgery. The Little Miracles Trust enables parents to gain the support they need during these hard times.
My husband and I chose this charity to support for 2014 and look forward to our first fundraiser which is Dress-up & Support week (April 5th – 11th) at Little Kickers NZ. Kids and parents bring a gold-coin donation to their weekly class, they can dress-up as anything they want – with our coaches dressing up as well – all in aid of The Neaonatal Trust who support the 'Little Fighters' in this world.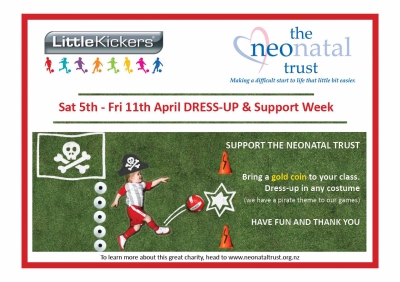 Little Kickers is available across Auckland and is coming soon throughout Canterbury!
Franchise enquiries are welcome in other locations. Please do get in touch.
Yvette Summers-Gervai
Director Little Kickers NZ
yvettesg@littlekickers.co.nz
www.littlekickers.co.nz
(09) 815 8607
______________________________________________
For further information about Little Kickers NZ please visit: www.littlekickers.co.nz
For further information about The Little Miracles Trust and to donate please visit: staging.littlemiraclestrust.org.nz
Update 22 April 2014:
Yvette and the team report a great week of Pirates, Super Heroes and many other characters taking on Little Kickers Football. Much fun was had and the fundraising went fantastically well with $742.90 raised for The Little Miracles Trust!
A huge thanks to Little Kickers and all participants for their support.
A couple of photos are below of the kids and coaches in their costumes from the Little Kickers Support week.